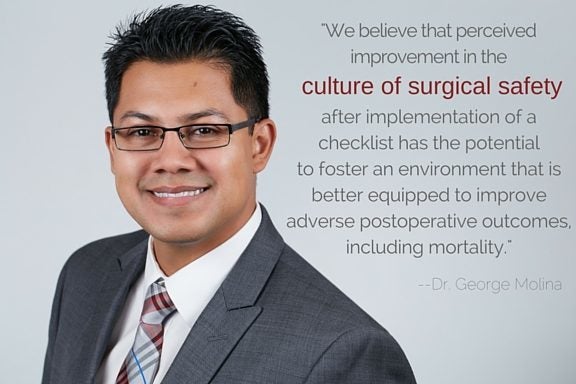 By Dr. George Molina
The use of a surgical safety checklist was associated with a lower 30-day postoperative mortality rate after emergency abdominal surgery compared with the same operations performed at hospitals that did not have a checklist, according to a recent study by the GlobalSurg Collaborative in the British Journal of Surgery (BJS).
This unique international collaborative prospectively collected data after emergency abdominal surgery in 357 centers located in 58 countries and reported that mortality after emergency abdominal surgery varied significantly across groups of countries categorized by the United Nations Human Development Index (HDI) ranking system. Although the most widely publicized finding was that postoperative mortality was significantly higher in middle and low-HDI countries when compared to high-HDI countries, I would argue that the most powerful finding was that hospitals that used a surgical safety checklist had 38 percent lower odds of 30-day mortality when compared to hospitals that did not have a checklist.
This finding is surprisingly similar to the 46.7% reduction in the total in-hospital postoperative death rate that was reported in 2009 by Ariadne Labs Associate Director of Safe Surgery Dr. Alex Haynes and coauthors in a study published in the New England Journal of Medicine. This latter study prospectively evaluated postoperative mortality before and after implementation of the World Health Organization (WHO) surgical safety checklist in eight hospitals located in eight different countries around the world
Some critics may discount the finding that using a surgical safety checklist was associated with a reduced 30-day postoperative mortality because the concept of a surgical safety checklist has been misunderstood as merely a piece of paper. This literal interpretation of what a surgical safety checklist is, however, misses its significant impact on inter-professional relations among operating room staff including surgeons, anesthesiologists, nurses, anesthetists, and surgical technicians.
We recently reported in the Journal of the American College of Surgeons (JACS) that after the implementation of a surgical safety checklist as part of a state-wide initiative in South Carolina, the perception of overall teamwork including the various qualities that contribute to teamwork significantly improved among healthcare professionals that work in the operating room. We believe that perceived improvement in the culture of surgical safety after implementation of a checklist has the potential to foster an environment that is better equipped to improve postoperative outcomes, including mortality. By creating an environment where all operating room personnel feel welcomed and empowered to speak up, the operating room team could avoid errors that arise from near misses and even sentinel events that put patients at risk of harm including death. Therefore, we are not surprised that a large international collaborative that reported on surgical patients from 357 centers located in 58 countries found that hospitals with a surgical safety checklist had improved postoperative mortality when compared to hospitals without such a checklist.
Multiple studies have now shown that using a surgical safety checklist in a research setting is associated with improvements in postoperative morbidity and mortality. However, it is unclear to what degree surgical safety checklists are used in operating rooms around the world outside the context of a research study. For example, with regard to the use of a surgical safety checklist, the BJS study, which was a real-world study outside of the specific constraints of research, did not evaluate how well surgical safety checklists were used, but whether one was used at all and compared these hospitals to those where a checklist was not available. More nuanced studies, therefore, are needed to evaluate the degree of completion of surgical safety checklists in real-world circumstances.
In particular, we do not know what the level of adherence is to principles that are promoted by a surgical safety checklist, including teamwork and communication. We have an incomplete understanding of the types of challenges that stymie proper implementation of surgical safety checklists in diverse operating rooms. Furthermore, we do not fully understand if barriers to implementing a surgical safety checklist differ among hospitals with varying levels of resources.
What better way to study these difficult research questions about the quality of and barriers to surgical safety checklist use in diverse environments than to partner with an international collaborative similar to GlobalSurg? Some of the common challenges in projects that involve multiple institutions and multiple countries are lack of local champions and local buy-in of key stakeholders, including administrators, surgeons, anesthesiologists/anesthetists, nurses and others. Global collaborations like GlobalSurg are powerful because they have the potential to generate enthusiasm and cooperation among investigators from different settings who are known and respected in their local institutions. Furthermore, international collaborations are unique because they encourage local investigators to participate in a global project that has the potential to increase the generalizability of findings.
Readers of small prospective cohort studies may argue that findings that are contrary to what is expected are simply not generalizable to their patients, practice, or hospital. Although no study is immune to this argument, an international collaboration that reported on more than 10,000 patients from 357 centers located in 58 countries is quite an achievement and whose findings cannot be easily dismissed due to lack of generalizability.
There is still much work to be done to ensure that surgical safety checklists are used, and used well every time an operation is performed around the world. Global surgical collaborations like GlobalSurg can serve an important role in studying difficult research questions regarding the use of surgical safety checklists, and can foster a greater awareness and enthusiasm for the importance of creating a culture of patient safety through using surgical checklists worldwide.
Dr. George Molina is a former post-doctoral research fellow at Ariadne Labs and currently a resident in general surgery at Massachusetts General Hospital (MGH). He, along with two other investigators at MGH, participated in the GlobalSurg study published in BJS.