TeamBirth ensures people giving birth and the clinicians who are caring for them have shared input and understanding into decisions during labor and delivery. We work with communities and public and private sector partners, including health systems, foundations, and governments, to implement, evaluate, and scale TeamBirth.
TeamBirth was designed to operationalize best practices in communication, teamwork, and clinical care in collaboration with experts from the major professional organizations in obstetrics in the United States, including ACOG, SMFM, ACNM, and AWHONN. The goal is to ensure these practices are occurring reliably with all patients throughout every labor.
These practices are supported through regular team huddles involving the birthing person, nurse, delivering provider, and any other members of the patient's support or clinical team. Communication and teamwork during huddles is structured through a simple, shared whiteboard in the labor room and aims to:
Promote the roles of the laboring patient, nurse, and delivering provider as members of the care team with equally valuable input for decision-making
Elicit the patient's preferences, symptoms, and subjective experiences and integrate with clinical data to inform patient care plans
Distinguish maternal, fetal, and labor progress statuses and care plans
Set shared expectations for next the planned evaluation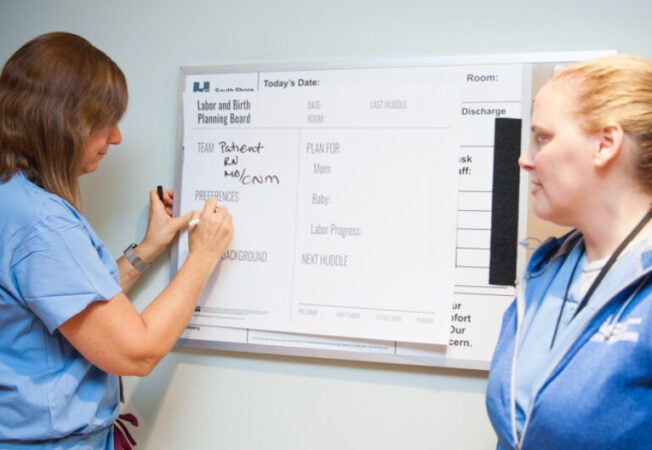 FEATURED
This is a patient-facing whiteboard to be located in labor and delivery rooms to collate shared information from team huddles and act as an ongoing shared reference for all team members, including the parents-to-be.
SEE ALL RESOURCES
From 2018-2019, we piloted TeamBirth in four community hospitals across the United States. In this pilot, patients and clinicians highlighted the benefit of the project on their communication, experience, and sense of dignity as one of the most important aspects of TeamBirth. We believe that dignity is important not only because patients deserve a dignified care experience, but also because elevating patient voices and empowering shared decision making is key to providing safer care.
Currently, we are implementing TeamBirth across the country through partnerships that allow us to learn more about the effectiveness of TeamBirth, especially in addressing inequities across different contexts. Our learning will help us to further develop the design of TeamBirth to extend and expand the value for birthing people and clinicians.
Register for the TeamBirth community of practice on Aria to learn more, access the TeamBirth tools, and join the conversation about promoting safe and dignified childbirth care.