Nic Encina operates at the intersection of science, data, and technology and his unique expertise will now help Ariadne Labs drive new discoveries that create the biggest impact in health care
Ariadne Labs recently announced that Boston innovation leader Nic Encina has joined its leadership team as the Chief Science and Technology Officer. Encina holds master's degrees in cell biology and computer science, and an MBA in healthcare from Yale University School of Management. Encina comes to Ariadne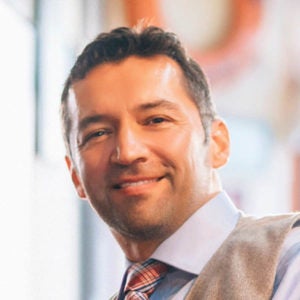 from PerkinElmer, where he launched and led the company's Innovation Lab in Boston's Kendall Square. He began his career as a bioinformatics engineer for the Human Genome Project in Dr. Warren Gish's Laboratory at Washington University. Since then he has continued to explore the intersection of science, technology and innovation with executive positions in startups, health technology and pharmaceutical companies.
In his new role at Ariadne Labs, Encina will lead a growing team of software and data science experts, staticians and qualitative scientists who work alongside Ariadne physicians and researchers to design, test and spread our health system solutions. He recently talked with Ariadne Labs Communications Director Deborah O'Neil about his ideas for the future of data, tech and innovation at Ariadne Labs.
Welcome, Nic. You're only a few weeks in. How's it going so far?
It's been a crash course in public health, and I've loved every minute. The people are all smart and passionate, and the mission is inspiring. I believe that there is so much that we can accomplish that can have real impact around the world.
Your job, Chief Science and Technology Officer, involves a lot of different roles and responsibilities. What's this position really about for you?
At a broader level it is really about data. What does data mean to Ariadne and to our overall mission? On the research side, what riddles are we trying to solve and how will we collect the data to answer them? We need to carefully plan all of the various ways that we pose questions and then collect data to answer them in order to maximize our chances of success in yielding valid insights. On the software and technology side, we need to be thinking about streamlining workflows, reducing friction to adoption, and scaling technologies so that our programs can all accelerate by virtue of common solutions. On a strategic level, how does Ariadne Labs use data to make healthcare delivery safer and better? How can we do it faster, better and at scale?
Can you elaborate on what you mean when you talk about data within the Ariadne Labs context?
Data is the input to information. Information or knowledge can be defined by many different things, but data is about what you are trying to measure to affect the outcomes you want. What kind of decisions are we trying to make and what information will help us make those decisions? Within the scope of data, there is clinical data and then there's metadata and usage data like how patients or physicians or customers engage with our tools. Are they using them a little or lot? How are they accessing or processing our data? What parts are they using? How do we design and test our tools, and then how do we scale them to drive the broadest possible adoption?
By knowing what to look for, capturing the right data, converting it into actionable information, and then yielding insights we can understand patterns that lead to effective change in behaviors. Because healthcare is so much about workflows, we need to identify the key metrics that determine pathways within those workflows and then use data to drive behavior in desired ways. So our challenge is in hacking that process in order to understand the underlying drivers for human and social decision-making. Only data can help us do that.
Ariadne is emerging from its startup phase into a larger, more complex organization. What does that mean for science and technology?
I think that means a couple of things: In order to scale, we need to borrow simple technologies and processes from the for-profit sector that help us accelerate while avoiding errors. Culturally, we need to continue to nurture and establish an environment of rigorous scientific inquiry that can be systematically applied across all of our programs by virtue of how we approach problems and think about data. But, although Ariadne is emerging from a startup to a more complex organization, it's critical that our new systems and methodologies do not stifle the spirit of curiosity that drives innovation and experimentation. Balancing all of these things to find the right mix that takes Ariadne to the next level will be the magic sauce.
I'm interested to hear you describe Ariadne Labs and how you see us in the broader health-care landscape.
I think of Ariadne Labs as an innovation lab. By being tied to Harvard and Brigham, we have a very tight alignment with academia and health care, but we have our own identity and mission. Every major innovation company has an innovation lab. Google has two. Apple has their own. Nike has their own. Companies are really good at operationalizing something and doing it well, at scale, while reducing risk. That's the opposite of what you need in innovation where you start small, adapt, and take calculated risks. Organizations realize they need to invest in the future of their mission and so they have a unit outside the corporate umbrella that has a culture focused around solving new problems in unique ways.
There's a very clear story to be told for how Ariadne is that in health care. It's Atul and Harvard and Brigham uniting as a separate organization to solve some of the biggest problems in health with new tools, new people, and new thinking. The old thinking that created the problems simply can't be the same thinking that'll solve them. The faculty here have the profile of entrepreneurs, they want to break the mold and disrupt and change things. Anyone you talk to is excited about Ariadne Labs because of the mission, because of working with Atul who is a visionary. Just like a start-up, it takes a certain amount of courage and some hubris to think that we can change the world. Not a lot of people think that way, less people act that way, and we do both. We are going to change health care where we feel that we can create the biggest impact.
What makes innovation happen?
I think that it starts with having a clear idea of why you exist as an organization. The mission helps define the strategy, and the strategy guides activity. Once you're clear on what problems matter to you, then you can build a pipeline of the important ones that could benefit from new solutions. In addition, you have to create a culture that embraces gnarly challenges, implement processes to tackle these challenges, and establish a stage where novel and useful ideas can take root and spread. As for teams, it's important to have the diversity to draw ideas from, and equally important to build an environment of trust, where it's ok to ask "foolish" questions and take calculated risks. Innovation can be a dirty path, so it's critical that early ideas have a place to take shape. "No" attitudes have their place in the process, but it's certainly not at the beginning when the hard work is in ideation, so it's critical to have everyone on the same page.
Furthermore, it really helps to understand some of the theory behind innovation, because it can really clarify what tools you can use. Is your innovation routine, radical, disruptive, or architectural? Will you innovate on performance, service, process, or a combination of the various types of innovation? These are all levers that you can use to systematize innovation into a repeatable process. Of course, in some cases, innovation can happen in a vacuum, through blind luck, or brute experimentation. Look at most startups. That's a fine approach and has led to many breakthroughs. But in many of those cases you'll also find some structure applied either directly by founders or indirectly by boards and advisors with experience. In our case, and most other mature organizations for that matter, finding a repeatable process for discovery is important in order to stay competitive and relevant.
At Ariadne, we are already innovating but there is always room for improvement. There aren't many places like Ariadne Labs that are innovating at the interface of the clinician and the patient. What we are doing is special with massive consequence for the social part of medicine. We are bringing science, data, technology, and innovation to change human behavior and, as we know, that's a really hard problem to tackle.
You've had an interesting career in different kinds of organizations from labs to startups to a multinational corporation. What drives your professionally?
My path has definitely been a winding one. I have spent years on a bench working with stem cells, in front of a computer analyzing and implementing algorithms and platforms, and in board rooms running companies and putting together deals. I have always operated at the intersection of different disciplines, which has been great when a job requires multiple hats, but it's impossible when a company wants to put me in a single bucket. I have been a part of everything from startups, to the Human Genome Project, to running strategy and innovation labs for public companies. All of these things have driven me in one way or the other, and in many ways it was the particular mission within a particular period in my life. What I try to do now is to draw from all of those experiences to both "map" the right tools and thought process to new fields, and also to find the right balance that challenges people while creating a safe place for execution, experimentation, and teamwork.
But at the center of it all is really the mission, and what it means to me personally. I have never been motivated by a job or money. For me it's all about the mission of what we need to accomplish, how we'll do it uniquely, what the impact will be, and what special skills I personally bring to the table that explain why I should be doing this now. With only so many things that we can do in a lifetime, I prioritize things where I can have the most profound impact that aligns with a mission that resonates with my inner compass.
Only weeks into this new position, do you have any high level thoughts about the future of the science and technology at Ariadne labs?
With respect to how Ariadne applies science and technology to the programs, we're going to build up our skills and capabilities to become excellent partners and thought leaders throughout the program lifecycles. We'll do this by building up competencies and bandwidth where we anticipate the biggest needs in '18 and beyond. In addition, we'll be identifying places where we can automate scientific principles, data analysis, reporting, and workflows in order to accelerate programs and enhance the spread of our tools and interventions.
What makes Ariadne particularly exciting for me is that we work very hard at making an impact. Whereas a typical academic end-goal is to publish a paper, Ariadne believes in taking those results to market by devising paths to implementation and working with the target communities to deliver, educate, and spread ideas. Adoption is a big deal to us, and we measure our impact by the application of our tools and total lives saved. Since the science of spread and adoption in health care are very much in their infancy, a real opportunity for us is to apply our scientific methodologies and data insights to our deep understanding of clinical environments in order to create systems that scale and streamline the spread of interventions. So when you ask about thoughts for the future of science and technology at Ariadne, I see us becoming world experts in the application of tools to the delivery of interventions, and in using data to help drive adoption and behavior change to improve the safe delivery of care, worldwide.