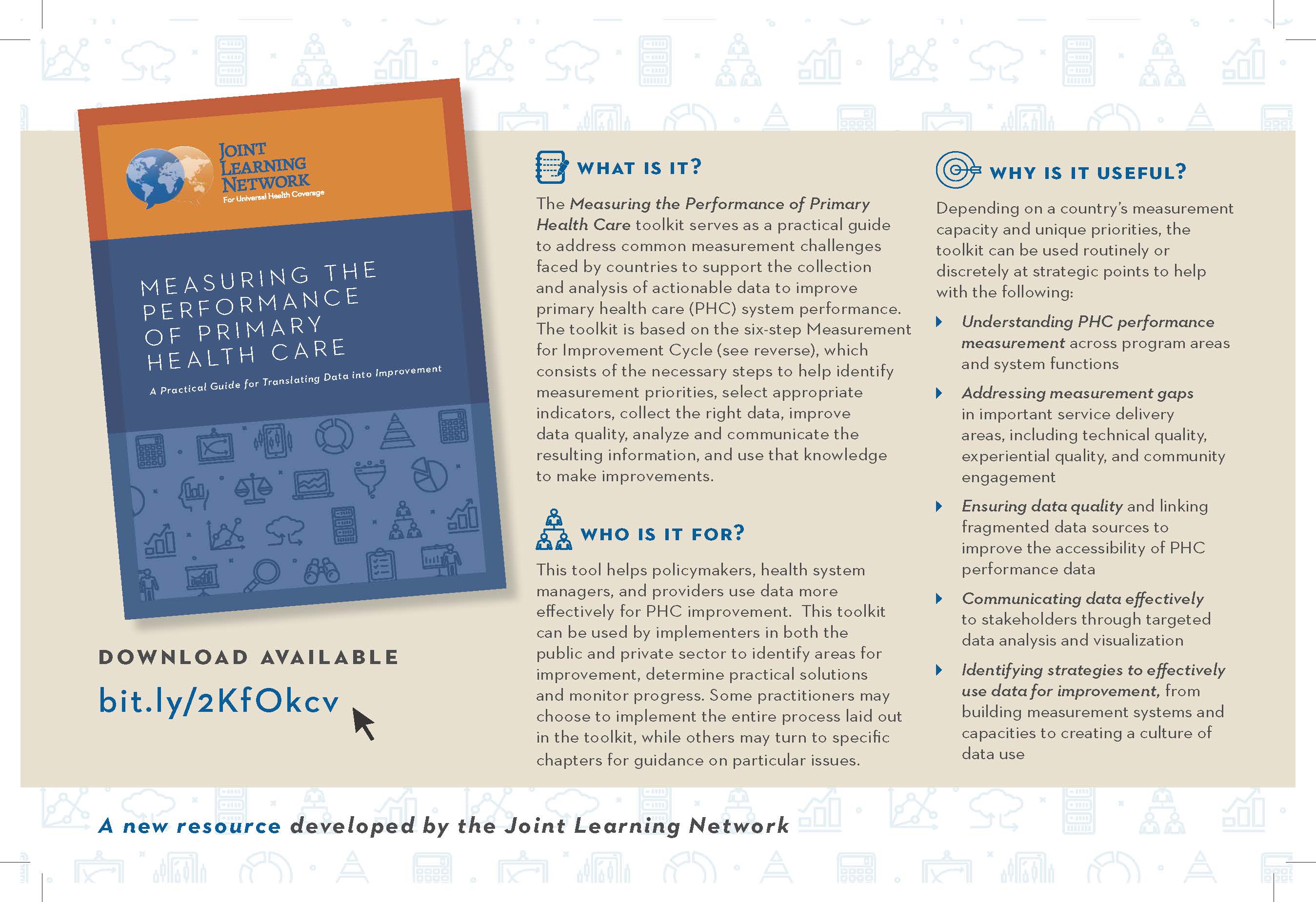 Over the last two years, Ariadne Labs has provided technical support and facilitation for the Primary Health Care Measurement for Improvement collaborative within the Joint Learning Network. This week the Primary Health Care (PHC) Measurement for Improvement collaborative has released Measuring the Performance of Primary Health Care: A Practical Guide for Translating Data into Improvement, a toolkit for practitioners, health system managers and policymakers to support better collection and use of PHC data to improve system performance.
Developed in partnership with the Primary Health Care Performance Initiative (PHCPI), this toolkit draws on the expertise and experiences of practitioners from 15 countries – Argentina, Bangladesh, Benin, Cameroon, Chile, Ethiopia, Ghana, India, Indonesia, Kenya, Malaysia, Mexico, Nigeria, Rwanda, and Vietnam – and includes practical guidance, tools, and case studies for users in both the public and private sectors.
The PHC Measurement for Improvement Toolkit was developed through a combination of in-person workshops and virtual engagement that drew on the practical experiences of the Joint Learning Network (JLN) Measurement for Improvement (M4I) collaborative member countries. Country participants worked closely with JLN technical facilitators from Results for Development (R4D), with support from PHCPI partners from Ariadne Labs and the World Bank Group, to document lessons and combine them with global expertise in PHC measurement and data analytics to produce the toolkit.
The toolkit serves as a practical guide to address common measurement challenges faced by countries to support the collection of more useful data on PHC system performance and the effective use of data for performance improvement.
The PHC Measurement for Improvement Toolkit is publicly accessible and downloadable. Please find the toolkit here. Please email JLN@R4D.org with any questions.
Read more here: http://www.jointlearningnetwork.org/news/15-countries-launch-a-guide-for-using-data-to-improve-phc