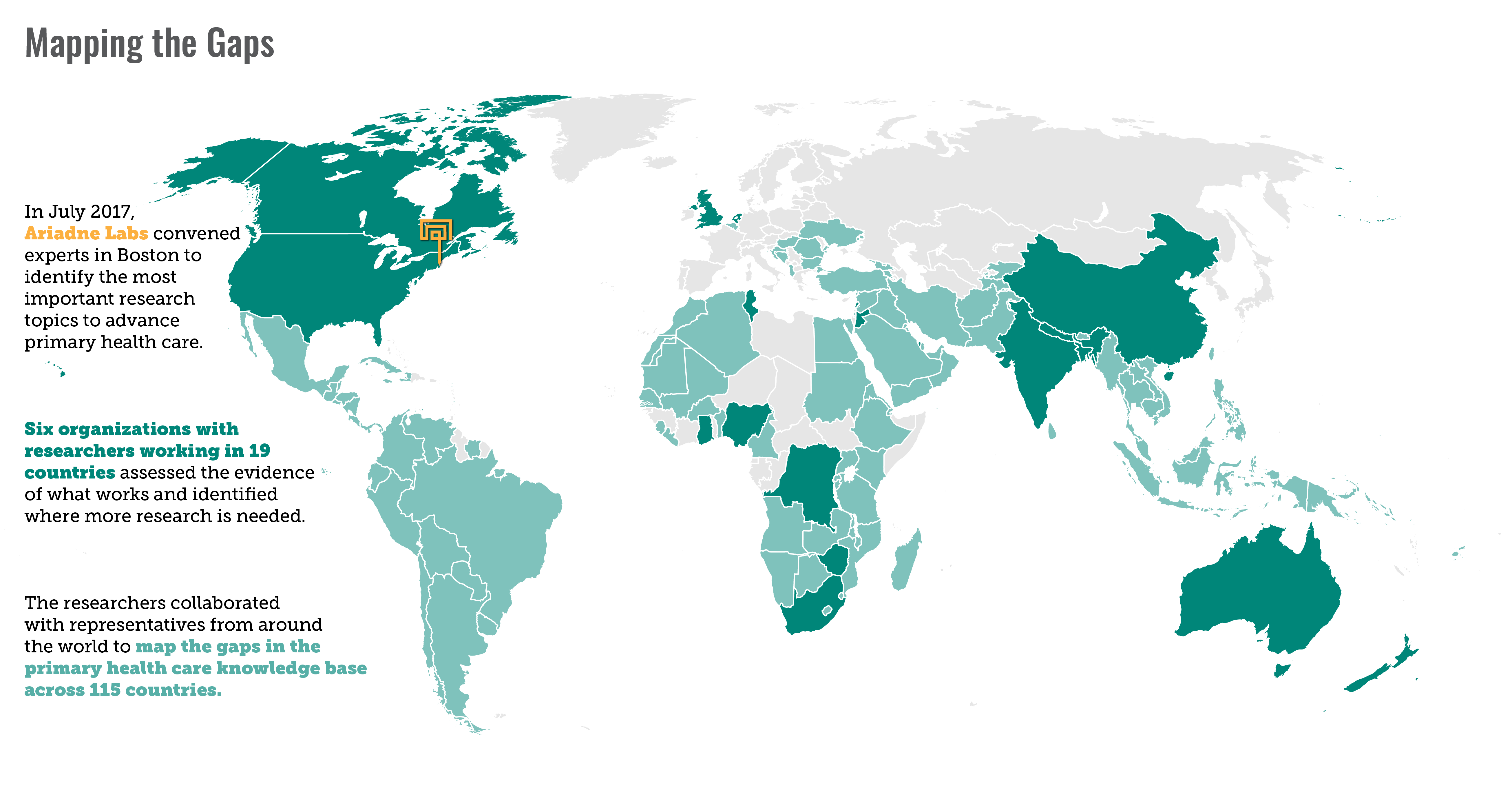 More than 75 policymakers, implementers, and researchers map the gaps in global knowledge and prioritize key questions in new BMJ Global Health special issue
Globally, primary health care is finally getting the attention it deserves. With the international commitment to achieving Universal Health Care coverage in the United Nations Sustainable Development Goals, there is growing awareness of the value and importance of building strong primary health care systems to improve health for all.
Country leaders in low- and middle-income countries are eager to build, reform, and strengthen primary care systems that deliver high-quality, integrated, and patient-centered care. And, they want to know how. There is an urgent need for demonstrated solutions, models, and strategies for overcoming significant cross-cutting and context-specific challenges and complexities. Yet, the research on what works and what doesn't often comes up short in critically important domains like how to finance primary health care, organize team-based care, and create implementation strategies for continuous quality improvement.
In a sweeping new effort, 76 researchers, practitioners, and policymakers from 19 countries identified the gaps in global knowledge about what works in primary health care and prioritized a new research agenda that focuses on four key areas:
organization and models of care
quality, safety, and performance management
policy and governance
financing of primary care systems
The findings are published in 14 articles in a special issue of BMJ Global Health, "Strengthening Primary Health Care Through Research: Prioritized knowledge needs to achieve the promise of the Astana Declaration," released online Aug. 16.
The BMJ Global Health special issue culminates a two-year collaborative effort led by Ariadne Labs, a joint center of Brigham and Women's Hospital and the Harvard T.H. Chan School of Public Health, with support from the World Health Organization (WHO) Alliance for Health Policy and Systems Research, and participation from six organizations that received support to conduct the research. The organizations include the American University of Beirut, The George Institute for Global Health, George Washington University, icddr,b, World Organization of Family Doctors, and the Primary Care & Family Medicine Education Network. The project was funded by the Bill & Melinda Gates Foundation to further the Primary Health Care Performance Initiative, a partnership led by the Gates Foundation, the World Bank Group and the WHO, with Ariadne Labs and Results for Development.
"We know a lot about certain areas of primary health care performance, but we have a lot of work to do to understand other key domains," said Dr. Asaf Bitton, executive director of Ariadne Labs, a senior advisor for PHCPI, and first author of the publication's comprehensive scoping review. "These papers show that we don't know enough about how teams of providers function proactively to care for a population and how they can be best organized and paid to do so. To provide proactive 21st century, population-based primary care systems in low- and middle-income countries (LMICs), we need to build an evidence base that identifies what is working and where we need to innovate."

Throughout the BMJ Global Health issue, researchers document the fragmented, incomplete, and, at times, nonexistent evidence of primary health care performance in 115 countries, of which 95 are low- and middle-income. New evidence gap maps provide a foundation for renewed, country-driven research agendas. Together, the authors call for the creation of a global research consortium to carry out prioritized research that bridges the divide between health policymakers, implementers, and academic researchers. A paper led by Ariadne Labs outlines practical steps for how to do so that's informed by similar efforts in other areas and settings
"The findings…reinforce the necessity for a consortium that can drive evidence-informed decision making and primary health care performance improvements through a better and more inclusive approach to determining what research is needed, as well as how it should be done," wrote Dr. Ejemai Amaize Eboreime, of the National Primary Health Care Development Agency in Nigeria, in his paper, "Bridging the two communities."
In another paper, "What kind of evidence do we need to strengthen primary health care in the 21st century?," authors noted, "Most primary health care research in LMICs comes from a few high-performing, middle-income countries; entire regions of the world have little comparable and available primary health care systems, quality, and outcome data." First author Dr. Lisa Hirschhorn of Northwestern University, the senior editor of the special issue and a PHCPI advisor, noted, "A research consortium led by policymakers, researchers, and implementers has the ability to ensure that the generated research is actionable and accelerates the cross-country learning needed to more efficiently and effectively address the primary health care gaps which threaten the global progress in achieving effective Universal Health Coverage and the Sustainable Development Goals."
Findings: What we know and don't know about overall performance in LMICs
In a broad scoping review of primary health care evidence from the last decade, authors from Ariadne Labs, the World Bank, and the Bill & Melinda Gates Foundation found the strongest research in four topics: workforce, payment systems, provider competence, and policies. Among the findings:
Effectively integrated and comprehensive primary care policy and governance appear to be associated with better long-term system performance
Insurance programs increase access by decreasing financial barriers and preventing catastrophic loss
User fees act as barriers to access
More public spending on primary health care appears to be associated with more equitable outcomes
Fee-for-service schemes do not appear to be associated with better outcomes
Capitation and pay-for-performance models show modest improved outcomes
Gaps in medication and supplies impede care delivery and decrease access
Evidence around the delivery of the core functions of primary health care—first contact access, comprehensiveness, continuity, coordination, and person-centeredness—is moderate to strong and shows:
Comprehensiveness, access, and person-centeredness in the primary care system is strongly linked to important primary health care-driven outcomes
Coordination and continuity are less studied but associated with moderate improvements
High trust and provider competence are associated with improved outcomes, while low trust and provider competence are associated with poor outcomes
The volume of research on other elements of service delivery is moderate and shows:
Empanelment and multidisciplinary teams are a useful base to build primary care strategies and attend to population health in limited countries
Motivating providers is important to maintaining and improving clinical outcomes
Where clinicians are lacking, leveraging community health workers improves patient access and increases coverage. This strategy is most effective when supported by policy, training, and integration of the community health work in the existing workforce
Findings: Organization of primary health care in LMICs
A diverse range of practitioners and academics engaged by a research team from the World Organization of Family Doctors generated four priority research questions to inform decisions on implementing or improving primary health care organization models:
What are the factors to be considered and negotiated for successful referral from primary to secondary care and back?
How should care be horizontally integrated and coordinated among the multidisciplinary team?
How can the public and private sectors work more collaboratively to improve and integrate coverage and prevent segmentation of the services?
How can different stakeholders (e.g. policymakers, health system managers, health workforce organizations, academic institutions, and communities) support and assist the primary health care workforce and successful team functioning?
Findings: Performance measurement and management in LMICs

Gap maps created by researchers from George Washington University show sparse evidence, with major gaps in interventions that address provider- and organizational-level outcomes such as audit and feedback and continuous quality improvement. They found the evidence is poorly informed by social and behavioral science and the resulting evidence hardly addresses how and why outcomes are produced or not.
"Harm, unintended consequences, and the equity effects of performance measurement and management interventions are poorly represented in the evidence base, if at all," authors wrote.
The researchers call for an ambitious research agenda on performance measurement and management, co-developed with policymakers and practitioners from LMICs, using multidisciplinary frameworks, qualitative and quantitative methods, and research questions that address what worked, how, and why.
Findings: Financing primary health care in LMICs
A team from the World Organization of Family Doctors brought together clinicians, academics, and policymakers from LMICs to address knowledge gaps potentially critical to improving PHC financing. The professionals distilled 479 gaps into four prioritized research needs:
the most appropriate payment system to increase access and availability of quality primary health care;
mechanisms for effective persuasion of governments to invest in primary health care;
the ideal proportion of the total health care budget to guarantee development of quality care;
and factors and incentives to improve distribution of primary care workforce for access equity.
Findings: Policy and governance in LMICs

Consulting with stakeholders, a team from icddr,b identified the three highest priority areas for policy and governance research as accountability, the role of public-private partnership, and the role of user-provider communication. Their analysis of the evidence found substantial gaps in these three priority areas, as well as in a number of others including:
Social responsibility in primary health care governance
Transparency in local decisions and governance
Contracting out and the governance of the process
Referral system to improve primary health care
External aid in primary health care
Governance of the purchasing process and utilization
Inter-sectoral collaboration
Findings: Prioritizing research on organization of primary health care in the Asia Pacific

Researchers from The George Institute engaged 22 experts from seven Asia Pacific countries to prioritize future research in how to best organize primary care in this region. The priorities are:
Identifying effective service delivery models for chronic diseases
Devising sustainable models of disease integration
Optimizing task shifting
Understanding barriers to care continuity
Projecting future primary health care needs
Designing appropriate service packages
Findings: Organization of primary care systems in Asia Pacific LMICs

A research team from The George Institute examined the evidence from interventions in Asia Pacific LMICs to identify what works to improve the coverage, quality, efficiency, equity, and responsiveness of primary care. The team found evidence that:
non-physician health workers positively impact coverage and quality of care, though better integration with other primary care services is needed;
community-based services are most effective when integrated through the referral system and supportive supervision arrangements, and have a reliable supply of medicine;
digital health tools show promise but the potential to support information systems remains untapped;
and community engagement is important for improving service demand and acceptability.
Authors found that more practical knowledge is needed on workforce development, integration of noncommunicable disease prevention, managerial capacity, community engagement, and information systems.
Findings: Community-oriented care in sub-Saharan Africa

Originating in South Africa, community-oriented primary care remains poorly developed in sub-Saharan African countries while it has shown success most notably in Brazil. The research team from the Primary Health Care & Family Medicine Education Network found very little evidence on the effectiveness of this approach to care in the sub-Saharan African context. Authors call for further research into models of community-oriented primary care in Africa, appropriate skills to integrate public health and primary care in these models, and effectiveness of the approach.
Findings: Quality, safety, and performance in the Eastern Mediterranean

Researchers from the American University of Beirut conducted a scoping review and engaged with 55 policymakers and stakeholders to generate a ranked list of 34 policy-relevant questions addressing quality, safety, performance management, and implementation approaches for further research. The top five ranked questions are:
What are the minimum sets of standardized and applicable quality and patient safety indicators to monitor performance at national and regional levels?
What risk and safety management approaches can be adopted to enhance patient safety in primary health care?
What regulatory and administrative measures can be implemented to promote rational drug prescribing in primary health care?
What strategies are effective in promoting equitable access to primary health care among the most vulnerable population?
What are the most effective methods for training clinicians in quality improvement?
Findings: Financing primary care in the Asia Pacific

To address the limited knowledge about how to finance primary health care in the Asian Pacific region, researchers from The George Institute engaged national stakeholders to prioritize a research agenda. The stakeholders identified the need for greater evidence on:
interventions to limit out-of-pocket costs;
financing models to enhance health system performance and maintain budgets;
the design of incentives to promote optimal care without unintended consequences;
and the comparative effectiveness of different service delivery strategies using local data.
Media Contact
Deborah O'Neil
Ariadne Labs
Director of Communications
doneil@ariadnelabs.org
PH: 305-215-5675