Largest non-profit health system in Texas is first in U.S. to roll out innovative, patient-centered approach to care
DALLAS (February 7, 2017) – Baylor Scott & White Health became the first large U.S. health system to implement the Serious Illness Conversation and Care Planning Program developed by Ariadne Labs, a joint center of Brigham and Women's Hospital and Harvard T.H. Chan School of Public Health. The program is drawn from best practices in palliative and serious illness care and facilitates compassionate, patient-centered discussions about serious illness between clinicians, patients and their families.
Specialty palliative care improves quality of life for patients and families facing serious, often incurable illness, and requires expert communication. However, there is a significant shortage of palliative care providers. The Serious Illness Conversation Program aims to train specialists outside of palliative care – family practitioners, internists, cardiologists, oncologists, geriatricians and others who care for seriously ill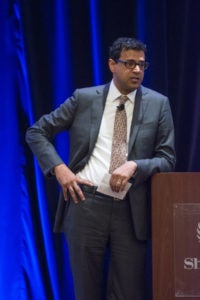 patients – across the Baylor Scott & White system to have more frequent, better and earlier conversations fostering more patient centered care than might otherwise occur.
"Serious illness care demands communication expertise, not just at a moment of crisis, but long before a crisis occurs," said Robert Fine, MD, clinical director of the Office of Clinical Ethics and Palliative Care for Baylor Scott & White Health. "The Serious Illness Conversation and Care Planning Program allows Baylor Scott & White to take a population health approach to give more patients and families facing serious illness the opportunity to make informed choices that reflect their values, reduce suffering, enhance family well-being and improve their quality of life, even if a cure might not be possible."
Scott & White Medical Center – Temple began implementing the program in October starting with oncologists, cardiologists and geriatricians. Baylor Scott & White hospitals in North Texas will begin in March 2017. The program provides a system for identifying appropriate patients, extensive training courses and coaching for clinicians, the Serious Illness Conversation Guide for clinicians and patients, patient preparation materials, suggestions to help patients discuss care preferences with family, and a system for documenting patient goals and priorities in Baylor Scott & White's electronic medical record system.
"We're honored to pilot the proven, effective Serious Illness Conversation and Care Planning Program here in Texas," said Laurel Kilpatrick, MD, director, division of supportive and palliative care at Scott & White Medical Center – Temple. "Our multidisciplinary team is specially trained to offer patients facing serious illness with everything from symptom control to long-term care planning to help improve their quality of life. Now, with this new layer of training, more patients and their families will receive the early intervention and support they need."
Patient-centered communication has a positive impact on patient satisfaction and well-being, treatment adherence, self-management of chronic disease and improved outcomes of care.
"People have priorities and goals besides just living longer," said Dr. Atul Gawande, executive director of Ariadne Labs and author of the bestselling book, Being Mortal, Medicine and What Matters in the End. "The most effective way to learn about these priorities is to ask people. Yet, we ask less than one third of the time before people die. When we don't ask, care is not aligned with patient priorities, and the result is suffering.
We chose to collaborate with Baylor Scott & White because of their commitment to being the first system in the country to make sure we ask. Together, we are creating a model of how to transform care and reduce suffering for seriously ill patients not just for Texas, but for everyone."
Baylor Scott & White is nationally recognized in palliative care. Baylor University Medical Center at Dallas was the first program in Texas – and one of the first 10 in the nation – to receive The Joint Commission's Advanced Palliative Care Certification in 2012. In 2014, Baylor Health Care System was awarded the American Heart Association's Circle of Life Award for best System level Palliative Care Program.
Supportive and palliative care teams at Baylor Scott & White hospitals include physicians, advance practice nurses, child life specialists, social workers, chaplains, physical therapists, occupational therapists, pharmacists, nutritionists, speech therapists, music practitioners and volunteers who care for patients diagnosed with a serious illness and their families. The program is also pioneering the provision of certified child life specialists who help the children and grandchildren of seriously ill patients cope with the impact of the illness.
About Baylor Scott & White Health
Formed from the 2013 merger between Baylor Health Care System and Scott & White Healthcare, the system referred to as Baylor Scott & White Health is the largest not-for-profit health care system in the state of Texas. With total assets of $10.8 billion* and serving a population larger than the state of Georgia, Baylor Scott & White Health has the vision and resources to provide its patients continued quality care while creating a model system for a dramatically changing health care environment. The system now includes 48 hospitals, more than 1,000 access points, 5,500 active physicians, and 44,000 employees, plus the Scott & White Health Plan, Baylor Scott & White Research Institute and Baylor Scott & White Quality Alliance — a network of clinical providers and facilities focused on improving quality, managing the health of patient populations, and reducing the overall cost of care. For more information visit:
About Ariadne Labs
Ariadne Labs is a global leader in health systems innovation, fostering a new discipline of research and discovery for better patient care from birth to the end of life. Founded by renowned surgeon, public health researcher and New York Times bestselling author Dr. Atul Gawande, Ariadne Labs is comprised of distinguished physicians, scientists and public health researchers who are dedicated to creating innovative, scalable solutions that produce better health care at the most critical moments in people's lives everywhere. The tools and interventions developed at Ariadne Labs are being spread around the world to reduce suffering, improve outcomes and provide more actual caring for millions of people.
MEDIA CONTACT: Megan Jacob; Megan.Jacob@BSWHealth.org; 214-820-7540