BOSTON, July 14, 2020 – Ariadne Labs is pleased to announce Mary Brindle, MD, MPH, as the new Director of the Safe Surgery/Safe Systems Program, following an extensive international search.
"Dr. Brindle joins Ariadne Labs as health care systems around the globe undergo tremendous transformation. She brings a wealth of experience to support our growing portfolio of work in making hospital systems and surgeries safer for patients, and we are confident that under her leadership, our Safe Surgery/Safe Systems program will continue to expand its impact in health care settings around the world," said Asaf Bitton, MD, MPH, Executive Director of Ariadne Labs. "Mary's ongoing efforts refining the WHO Surgical Safety Checklist have already built on the foundational work Ariadne Labs has completed in partnership with the WHO to ensure the safety of surgical patients everywhere."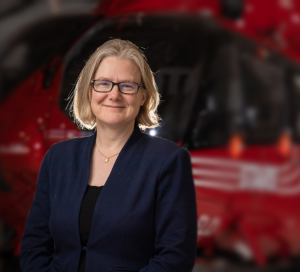 An internationally recognized pediatric surgeon, Dr. Brindle most recently served as Director of the EQuIS (Efficiency Quality Innovation and Safety) Research Platform at Alberta Children's Hospital in Calgary. She is Scientific Director of the Alberta Surgery Strategic Clinical Network, helping to develop and evaluate strategies to improve surgical quality and access in the Province of Alberta. She has also taken on a leadership role within the International ERAS (Enhanced Recovery After Surgery) Society where she helped to develop international standards for ERAS guidelines and leading the development of neonatal ERAS.
Dr. Brindle has collaborated with Ariadne Labs since 2015, when she spent a year at the Lab as a Visiting Scholar working to develop point of care tools to improve surgical safety for children and adults in collaboration with researchers from NASA and the Canadian Patient Safety Institute. More recently, she has been working with Ariadne Labs to lead the Safe Surgery Checklist High Performance Project, a multifaceted study funded by the Canadian Institute of Health Research, which will result in the creation and testing of a bundle of innovative tools that enhance the performance of the WHO Surgical Safety Checklist, reduce harm, and improve teamwork and communication in health care.
"Over the last five years I have been continually impressed by high quality, high impact work produced by the surgery team and inspired by the innovative and collaborative spirit of Ariadne Labs," said Dr. Brindle. "It is a great honor to take on leadership of the Safe Surgery/Safe Systems program. I am excited to expand our capacity and work alongside this team to improve care provided to surgical patients and improve the systems in which we work worldwide."
As Director, Dr. Brindle will provide critical direction for the full portfolio of Ariadne's Safe Surgery/Safe Systems Program. Since its founding in 2012, the program has grown significantly in impact and scope. A recent study found that its flagship project, the WHO Surgical Safety Checklist, is now used in an average of 70% of surgeries worldwide. The program has also developed and disseminated the OR Crisis Checklists, and is working to use smartphones and digital technology to track patients' surgical recovery through its HealthPrism project. The team's Surgical Coaching project is creating an opportunity for continued peer-to-peer learning among practicing surgeons, and the Patient Safety for System Expansion project is developing tools to make hospital system expansions safer for patients.
Dr. Brindle has already made significant contributions to Ariadne Labs' COVID-19 response, including guidance on cancellations and postponements of non-emergency surgical procedures and the operational, ethical, and legal challenges associated with maintaining a well-equipped, healthy workforce.
Evan Benjamin, MD, MS, Chief Medical Officer of Ariadne Labs, said, "As the Safe Surgery/Safe Systems program continues to expand, I am confident that Dr. Brindle is the right person to bring this work to the next level. Her previous collaborations with Ariadne Labs have already had an enormous impact on our work, and we look forward to seeing the continued development of the program under her leadership."
In addition to her position at Ariadne Labs, Dr. Brindle will also take up a clinical role in the Division of Pediatric Surgery at Massachusetts General Hospital (MGH) in 2021. "We are thrilled to have Dr. Brindle join our group as a pediatric surgeon. She is a highly respected pediatric surgeon with a breadth of clinical expertise and an exceptional track record in enhancing the quality and safety of the surgical care of children. I am looking forward to her arrival," said Allan Goldstein, MD, Chief of Pediatric Surgery at MGH and Surgeon-in-Chief at MassGeneral Hospital for Children.
Dr. Brindle holds a BA in Art from Yale, an MD from Dalhousie University, and an MPH from the Harvard T.H. Chan School of Public Health.
About Ariadne Labs
Ariadne Labs is a joint center for health systems innovation at Brigham and Women's Hospital and Harvard T.H. Chan School of Public Health. We develop simple, scalable solutions that dramatically improve the delivery of health care at critical moments to save lives and reduce suffering. Our vision is for health systems to deliver the best possible care for every patient, everywhere, every time. Visit www.ariadnelabs.org to learn more.
Media Contact: Brigid Tsai, btsai@ariadnelabs.org.