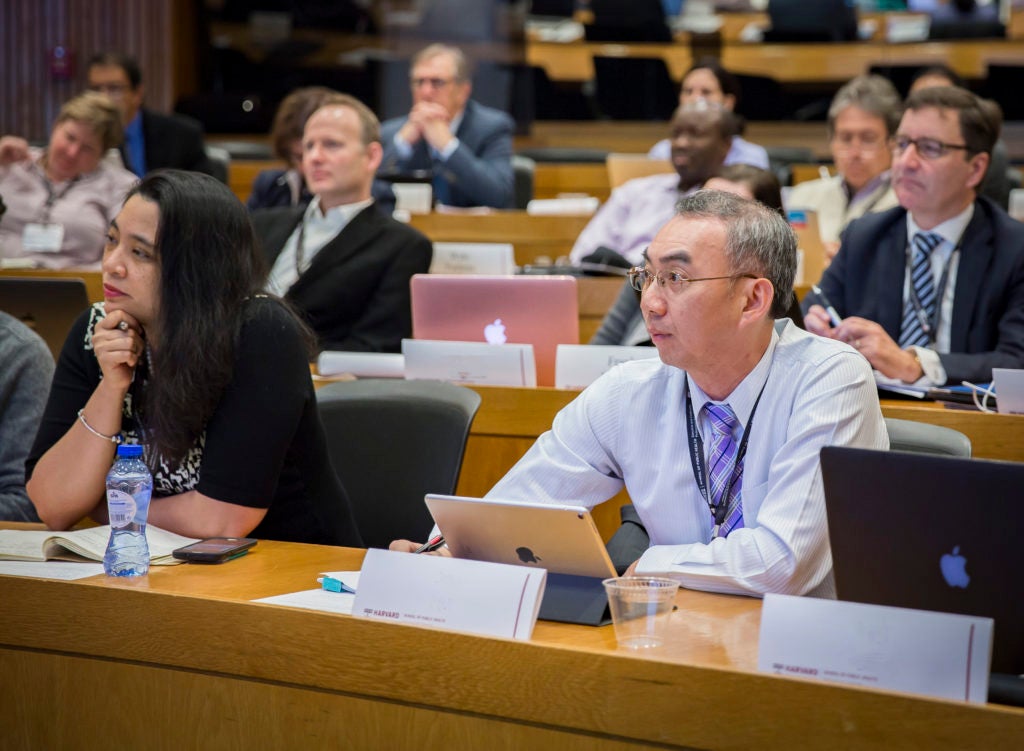 Participants at the International Leadership Development Program for Physicians
Amith Shetty welcomed the added responsibilities of becoming a hospital director, even if he admittedly wasn't sure how to properly execute them. His schooling as an emergency physician didn't focus on business management. "I noticed that the leadership styles, models, and skills learned through acute medical practice did not necessarily lead to the best outcomes in health care management settings," says Shetty, of Sydney, Australia. 
Needing help, Shetty searched for professional development programs for clinicians now in leadership positions. He chose the Harvard T.H. Chan School of Public Health's International Leadership Development Program for Physicians. This year, Ariadne Labs has again signed on as a co-sponsor of the program and will host part of the training at our offices in Boston. The program will run from March 30 – April 9, 2020.
Topics from the Ariadne Labs team include transparency and quality, reliability, and the culture of health care safety. Scheduled presenters include Executive Director Asaf Bitton; Chief Medical Officer Evan Benjamin; and Susan Gullo, Ariadne Labs' Director of Implementation, along with representatives from Ariadne Labs' programs: Erik Fromme, faculty for the Serious Illness Care Program; George Molina, faculty for the Safe Surgery program; Katherine Semrau, Director of the Better Birth Program; Dan Schwarz, Director of the Primary Health Care program; Rebecca Weintraub, Director of the Better Evidence program; and Amber Weiseth, Associate Director of the Delivery Decisions Initiative. 
Attendees also get access to other Harvard faculty, industry experts, and leaders while in an intimate forum of international peers.
"In the ever-evolving health care landscape, physicians are often called upon to be the change agents that lead transformation," says Benjamin. "It is critical for physicians to learn the necessary technical, management, and leadership skills to drive improvement. Our team looks forward to sharing our experience of creating scalable solutions that save lives and reduce suffering at the most critical moments in people's lives everywhere."
Site visits to Ariadne Labs and other Boston-area health care facilities will link participants with innovators who can lend their expertise and advice on addressing leadership challenges. Working with faculty and peers, participants fine-tune their own project centered on improving quality of care or service, reducing costs, or expanding patient satisfaction by developing new services back home.  
"Participants in this program are interested in being change leaders who will make a difference in their organization and in their own countries," says Laurie Pascal, director of the program. "[When they leave the program], they are different than when they came to the organization."
Shetty says he experienced this transformation. "Even though primarily trained as an emergency physician, I am now able to lead a complex hospital and work closely with multidisciplinary teams," says Shetty. "This course empowered me to … negotiate, plan, design, and implement health care projects and lead health systems."
To register for this program, please visit the Harvard T.H. Chan School of Public Health site.
—Fred Durso, Jr.
This post originally appeared in February 2019, and was updated in January 2020.