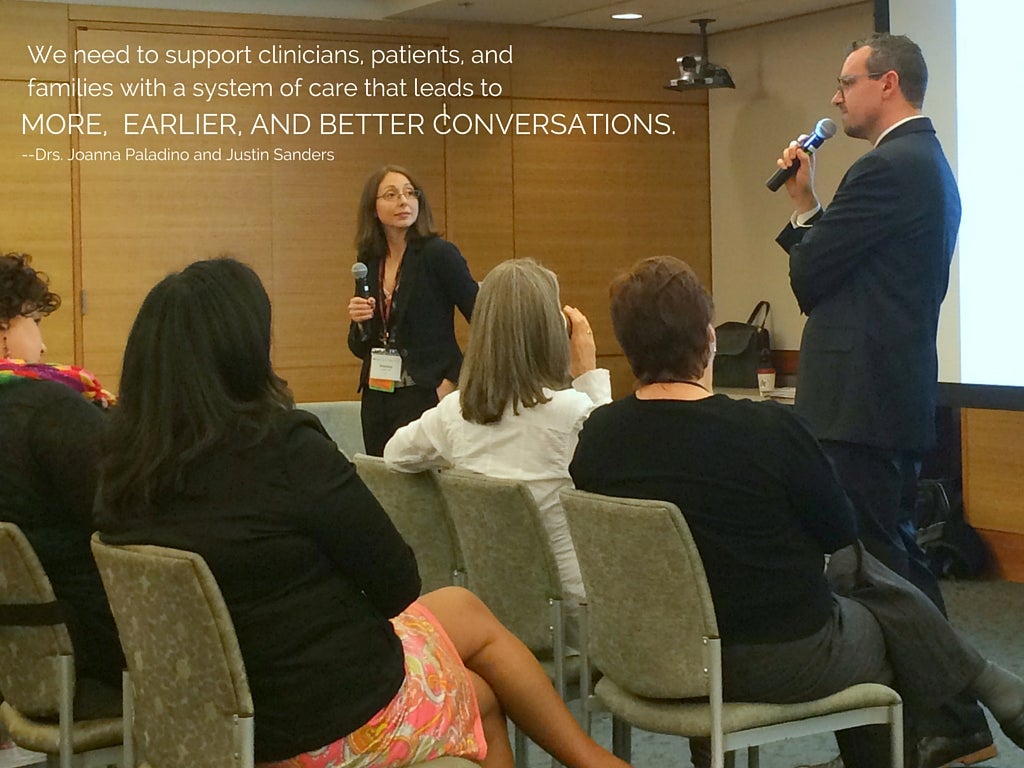 By Joanna Paladino, MD and Justin Sanders, MD
Systematic deficiencies in how we care for those with serious illness in our country are increasingly evident, to doctors, patients, and their families. After decades of stops and starts, policy makers have finally recognized the importance of federal action to increase conversations about end-of-life wishes as a vehicle for improving care of patients with serious illness. The Center for Medicare & Medicaid Studies has recently adopted a policy that provides reimbursement for healthcare professionals to provide "voluntary, structured discussions" about a person's goals, illness, and treatment options. Such a move is an important step toward creating a better system of care for seriously ill patients, one that improves access to these conversations for millions of Americans who would benefit.
This policy also reflects what patients and families want. A recent nationwide Kaiser research poll reported that 9 in 10 Americans believe doctors should discuss end-of-life care issues with their patients. Too many patients still die without the opportunity to have conversations with their clinicians about their values and goals. When these conversations do occur, they typically happen late in the course of illness, or during a crisis, which leaves patients and families little time to fulfill their wishes or to make informed choices about their treatment options. Also, they are not patient centered, because they tend to focus on procedures and fail to elicit a patient's values and priorities.
Why does this matter? It matters because earlier conversations about values and goals, in the setting of a shared understanding of what to expect from their illness, give patients and their families time to prepare — to talk and be together, to gather information and ask questions, and to decide how they want to spend precious time. Such conversations provide a strong foundation for patients, families, and clinicians – together – to align the care patients receive with what matters most to them.
Having conversations with people about serious illness is hard. We know this because, as palliative care physicians, with specialist training in the communication and medical treatments that enhance quality of life for the seriously ill, we do this regularly. Though we are trained to have them, they are still difficult, because facing mortality is heartbreaking and sorrowful for patients and their loved ones.
The benefits of these conversations, however, are substantial, and include improved quality of life, reduced suffering and distress, improved patient and family coping, and care that is more in line with what patients want. Yet, while serious illness – cancer and advanced disease of the heart, lungs and kidneys – claims the lives of millions of Americans every year, most of them never have the opportunity to talk to clinicians with whom they have a relationship about their hopes, fears, and preferences…about what matters most to them. When a crisis does arrive, they and their family members are often unprepared. We need to have these conversations more frequently, earlier in the course of illness, and we need them to focus on what matters most to patients. In other words, we need them to be better.
CMS's new policy is a welcome step in the right direction. It is also not enough. Because these conversations are difficult, but critically important, it would be unfair – to patients and clinicians – to rely on clinicians alone to make them happen. Clinicians are not trained to have patient-centered conversations that focus on values and goals. Patients' fears and worries about their illness often make it difficult for them to initiate these conversations; at the same time, doctors don't want to upset their patients by bringing up these difficult issues. Since patients receive care from multiple clinicians, it can be unclear who should initiate the conversation. And in our fast-paced healthcare system, finding the time to sit down with patients to engage in these critical conversations can feel impossible. We need to support clinicians, patients, and families with a system of care that leads to more, earlier, and better conversations.
How do we go about doing this?
Improving care for the seriously ill requires a systems-based approach. Having these conversations regularly with seriously ill patients — making them as routine as asking patients about allergies — needs to become a key expectation for individuals and health systems. To do this, we must use existing tools and build new ones to routinely identify patients who are at high risk of death; train clinicians to effectively, efficiently, and compassionately conduct patient-centered conversations that focus on values and goals; prompt clinicians to have them; document them in a place that ensures accessibility at multiple points of care; provide resources to help patients carry on these conversations with their loved ones at home; and provide feedback to clinicians and health systems about how well they are meeting these standards.
Patients with serious illness have priorities besides just living longer. They want to strengthen and repair relationships, achieve personal goals, and spend time with their loved ones. As clinicians, we can't know a patient's priorities unless we ask. Giving patients the opportunity to share their goals and to prepare for what lies ahead can help shape the care they receive in a way that deeply impacts their well-being and that of their families. Reimbursing clinicians for doing this is necessary but not sufficient. CMS and Congress need to incentivize healthcare systems to enhance the impact of financial reimbursement by initiating additional changes that are more likely to make a difference.