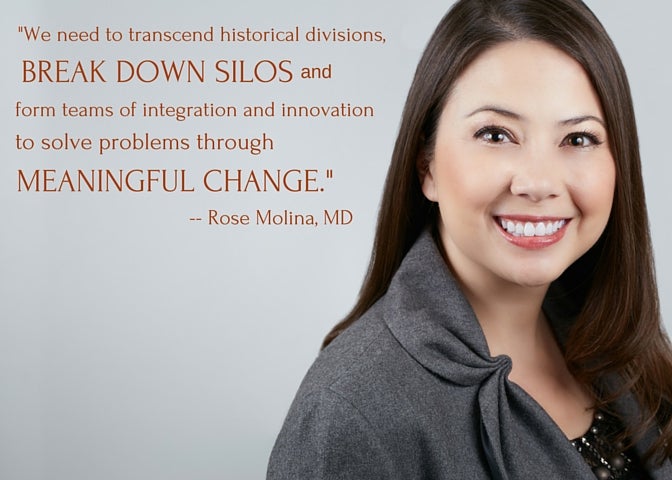 By Rose Molina, MD
I am an obstetrician/gynecologist and my husband, George Molina, is a resident in general surgery. Recently we saw our specialties converge, and I found myself answering an interesting question: "Does George want to switch specialties?"
George and a group of fellow surgeons at Ariadne Labs and Stanford published a JAMA article on global C-section rates. The paper raises an underlying tension about academic silos and professional territories. Why would a team of mostly surgeons write a ground-breaking paper on C-section rates and maternal and neonatal mortality?
I can think of 3 easy answers:
C-sections are the most common surgery in many countries,
There is fairly good data on C-sections at a national level compared to other types of surgeries, and
People care about C-sections; it is the only surgery where there are two (and sometimes three or four) patients.
Yet, there is a twinge of surprise when a surgeon publishes on C-sections, at least, here in the U.S. This may be due to an assumption that only those who have trained in a particular specialty can provide important insights within field. That perspective can be fueled by individual self-interest, razor focus on a promotion track, and ease of working alone or with known colleagues rather than building new relationships.
Currently, the research field lags behind clinical training, which prioritizes teamwork and team-building in a collaborative environment. Multi-disciplinary simulations, case conferences, grand rounds, and clinical rounds have become the norm. In clinical practice, each individual contributes unique training and experience to optimize patient care. Nurses bring bedside accompaniment and knowledge. Physicians bring clinical and technical expertise. Pharmacists bring a lexicon of drug doses and interactions. Care coordinators and social workers bridge inpatient and outpatient care. Together, a team can most effectively address any clinical situation – from routine outpatient visits to life-threatening code situations. No one doubts the value of teamwork in clinical care.
Yet, integrating experts from multiple disciplines in research teams remains challenging. The evolution from "multi-disciplinary" to "inter-disciplinary" to "trans-disciplinary" research takes a commitment to the idea that complex problems require complex solutions with increasing interconnections among different fields. Some clinical specialties form natural synergies, yet often conduct research in silos: surgery and anesthesia, obstetrics and pediatrics, urology and gynecology. Incorporating social sciences, such as economics, anthropology, and sociology, proves to be an even more difficult collaboration for medical researchers to cultivate. However, as Andy Stirling, professor of science and technology policy, writes in the Guardian, social science has "a unique and crucial dual function in interdisciplinarity – helping us to understand both the systems under scrutiny, and the systems of scrutiny themselves." The end result is often a patchwork of studies from various angles to evaluate and address a complex question such as how to optimize maternal and neonatal outcomes during childbirth.
We need a renewed research paradigm that values trans-disciplinary innovation in asking questions and seeking answers. Stevenson and colleagues identified key intellectual, relational, and institutional challenges in achieving trans-disciplinary research and proposed solutions that focus on integration. We need to transcend historical divisions and break down silos and form teams of integration and innovation in order to convince a spectrum of stakeholders – clinicians, politicians, economists, public health officials, and patients – to solve problems through meaningful change.
As a center for innovation in public health, Ariadne Labs is forming multi-disciplinary teams and seeking key connections within the teams to ask the right questions and discover the right answers. The research team for the global C-section study started out as multi-disciplinary, including experts from independent fields, such as general surgery, obstetrics, biostatistics, epidemiology, and public health. However, through the research process, the conclusion of the study emphasized an inter-disciplinary approach to understanding how C-sections can be used as a metric for measuring the strength of a health system. Looking forward to a trans-disciplinary approach, Ariadne Labs is a catalyst in creating a dynamic hub of engagement among research disciplines, which will yield powerful ideas and solutions to improve health globally.
Dr. Rose Molina is an obstetrician/gynecologist at the Dimock Center and Beth Israel Deaconess Medical Center who is doing a Global Women's Health Fellowship through the Connors Center for Women's Health and Gender Biology at Brigham and Women's Hospital.