By Sarah Kessler
Lifebox Foundation is the only NGO in the world devoted to safer surgery in low-resource countries. An independent charity led by Ariadne Labs Executive Director Atul Gawande, we deliver targeted interventions that support effective use of the WHO Surgical Safety Checklist in some of the most challenging surgical environments around the world. We were founded by four of the world's leading medical professional organizations in April 2011 – meaning this month we turn five.
We're lucky to have friends and supporters across the continents – but we're also lucky to have a patron in the U.K. who sits in the House of Lords. The Lord Bernard Ribeiro, Kt CBE, a Ghanaian surgeon and former president of the Royal College of Surgeons, hosted us for a reception overlooking the River Thames. We looked out across London and toasted five busy years.
There's real impact to celebrate: since Lifebox launched in the UK, joined two years later by our sister charity Lifebox USA, we've made surgery safer for an estimated 10 million patients around the world.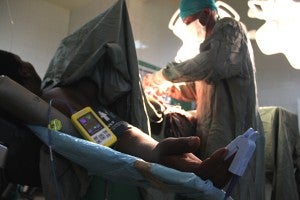 Our Safe Anesthesia program led a global competition to find the ideal pulse oximeter for use in low-resource settings. A pulse oximeter is an essential piece of anesthesia equipment that monitors a patient's oxygen level, sounding an alarm at the slightest change. It is the only piece of technology on the WHO Surgical Safety Checklist, but missing from an estimated 70,000 ORs around the world. We have made it our mission to ensure it is available and properly used for every surgical patient worldwide. Our impact has been substantial. Our uniquely designed pulse oximeter is now at work in hospitals across 100 countries. Ongoing follow up – in-person, electronically, qualitative and quantitative – shows that the effect is both quick and long-term.
Our faculty and growing network of trained trainers have delivered teaching workshops to more than 5000 OR staff in safer surgery and anesthesia practice.  Last year we launched a second technical stream of work, Clean Cut, to target surgical site infection.
And we've spoken up in a conversation around global surgery that has – particularly in the last 18 months – gotten noticeably louder: It is increasingly hard to ignore the fact that 5 billion people worldwide lack access to surgical care; to argue that surgery is an expensive luxury; to deny its role in reducing maternal mortality and deaths from road traffic accidents.
These 5 billion people certainly don't need access to unsafe surgery.  The challenge of quality as a component of access goes back (and beyond) to 2007, when WHO recognized a new global health crisis creeping up the mortality charts: not a virus, but a systematic flaw. Unsafe surgery.
More than 313 million operations now take place each year, with at least 7 million dead or disabled from complications. WHO's focus on surgical safety as a patient safety challenge affirmed what anyone who has ever had an operation knows: surgery isn't a luxury, and safe surgery should never be a lottery.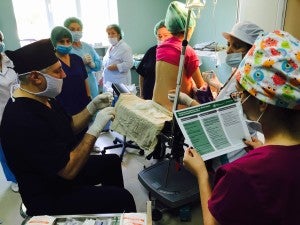 That's where Lifebox begins. We grew directly out of the WHO Surgical Safety Checklist (Dr. William Berry, co-author of the newly released Safe Surgery Checklist Implementation Manual, is one of our trustees.)
Done right, the Checklist has extraordinary impact: 40% reduction in complications and mortality.  Our mandate is to support Checklist implementation specifically in countries where the risk of dying from anesthesia alone can be as high as 1 in 133; where essential surgery comes with a life-saving promise, but extraordinary risk.
Safety is the most invisible, essential component of any complex system, and surgery is exquisitely complicated. But through building networks across professional, academic and commercial organizations, Lifebox is working to change the numbers. We've done a lot in five years – but we've got a long way to go.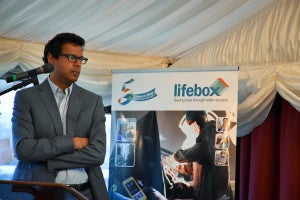 Under Dr. Gawande's leadership Lifebox and Ariadne Labs share similar goals around systems change, measurement and the safe surgery imperative. Our US staff sit alongside the incredible Ariadne team in Boston, making us colleagues and collaborators. Coffee machine conversations in this place might start with baseball, but somehow always circle back to the work and how we can do better for patients everywhere.