Every so often, a pregnant woman whose water broke the day before — maybe even two or three days before — is rushed into the urban teaching hospital where Dr. Rosemary Ogu delivers babies and trains new doctors. The mother has waited to come to the hospital and now she needs urgent medical attention.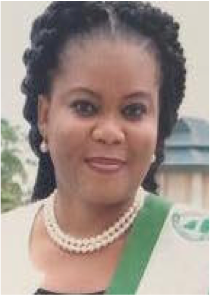 In attending to her, says Dr. Ogu, it is possible to miss a critical step: Giving the mother antibiotics to prevent infection from entering the womb. Septic infection is one of the leading causes of death for women in childbirth and Nigeria has some of the world's highest maternal death rates. Delay in treating the complication is globally recognized as key factor for maternal mortality and morbidity.
For the past two years, Dr. Ogu has been on a mission to enhance compliance with best practices by using the WHO Safe Childbirth Checklist on the labor floor of University of Port Harcourt Teaching Hospital. As a member of the WHO Safe Childbirth Checklist Collaboration, she has successfully piloted a program using this checklist along with training and coaching to improve the delivery of 28 essential childbirth practices with every mother, every time.
"When you are caring for patients, prompt intervention cannot be overemphasized," Dr. Ogu said. "If you forget to give that woman antibiotics she can go on to get septic infection and die. But if you have the checklist, one of the first points on it is, 'Does the mother need to start antibiotics?' With a checklist, you don't forget."
At the federally funded, 900-bed University of Port Harcourt Teaching Hospital, about 3,500 babies are delivered each year. In an effort to improve care, Dr. Ogu teamed up with the World Health Organization in 2014-15 to test the usability and sustainability of the WHO Safe Childbirth Checklist with her hospital's 24 obstetricians/gynecologists, 50 resident doctors, and 105 nurse midwives. She trained them on use of the Checklist and followed up at three, six, nine, and 12 months to evaluate whether the checklist was still being followed.
"It was fantastic," she said. "What I saw from other staff was that they changed how they care for patients, how they talk to patients, how it made them remember things they are supposed to do. It made them more efficient, better prepared with supplies."
Feedback provided from focus groups underscored the value of the Checklist in helping clinicians better counsel patients and anticipate complications during the birthing process.
Word spread within the Port Harcourt medical community and the Primary Health Care Board decided to adopt the checklist in four facilities across Rivers State. Dr. Ogu coordinated training across the sites.
The regional implementation is the beginning of what Dr. Ogu hopes will be a national scale-up of the WHO Safe Childbirth Checklist in Nigeria. While the country represents only 2 percent of the world population, it contributes about 10 percent of global maternal, infant and child deaths, according to USAID.
"I am trying to create a culture of checklist use," she said. "In my hospital, we have better quality of care. I'm only in one center, but I want to make a difference in the whole country."
Editor's Note: Dr. Ogu will be sharing her experience of implementing the WHO Safe Childbirth Checklist during the webinar titled "Implementing Checklists for Quality Improvement: Best Practices Along the Implementation Pathway – "Engage" on Aug. 26, 2016 from 10-11 a.m. EDT. More information on the webinar can be found here.
–By Deborah O'Neil