By Stephanie Schorow for the Global Mass Vaccination Site Collaborative
The switch at Dodger Stadium in Los Angeles from a testing site to a vaccination center was a truly daunting effort. Marlina Crespo, the COVID-19 area manager for the Community Organized Relief Effort (CORE) vaccination effort in Los Angeles, acknowledged this during the April 2, 2021, meeting of the Collaborative. "The amount of equipment and human resources required was definitely not something that we were expecting. We underestimated the scale," she said.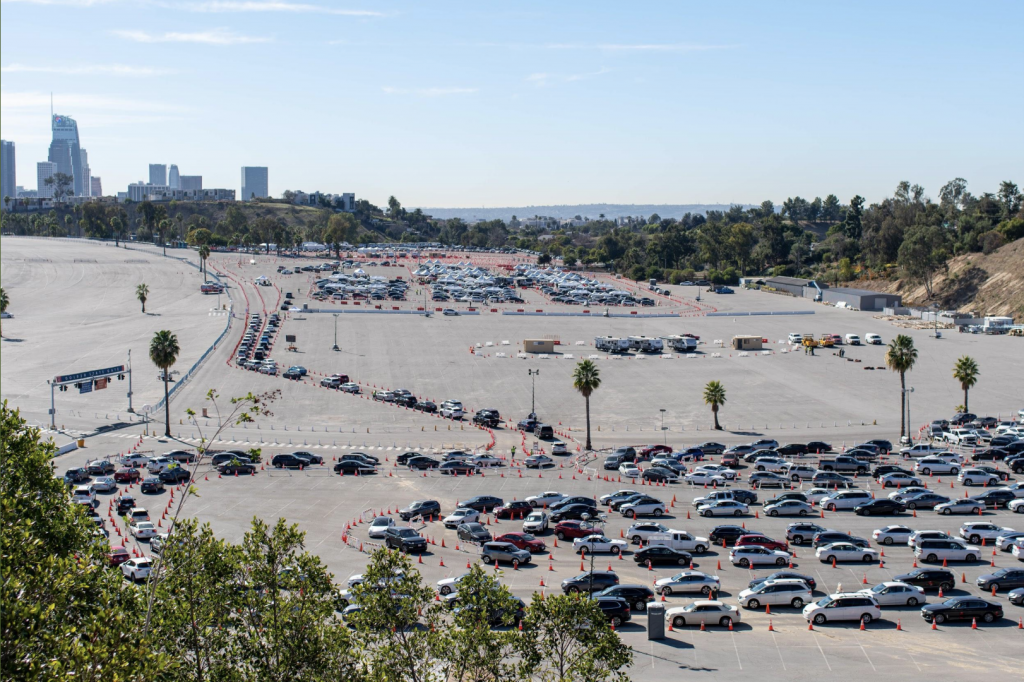 Nevertheless, more than a million vaccines have been administered in the City of Los Angeles, and nearly 480,000 vaccines were administered at Dodger Stadium — about 12,000 to 15,000 a day — by a staff of about 480 between 8 a.m. and 8 p.m. Crespo, with CORE Co-founder and CEO Ann Lee, explained how their team approached the massive vaccination effort.
Their challenges included:
Ensuring sufficient supplies across such a large, spread-out venue.
Having all staffers HIPAA certified.
Oversight in such a large, spread-out venue.
Traffic impact in the neighborhood.
Ensuring enough vaccines were on hand but not overdrawing and risking the vaccines expiring.
Maintaining communications among the many partners, which included the mayor's office, the local fire department, medical software companies, local universities, and community organizations.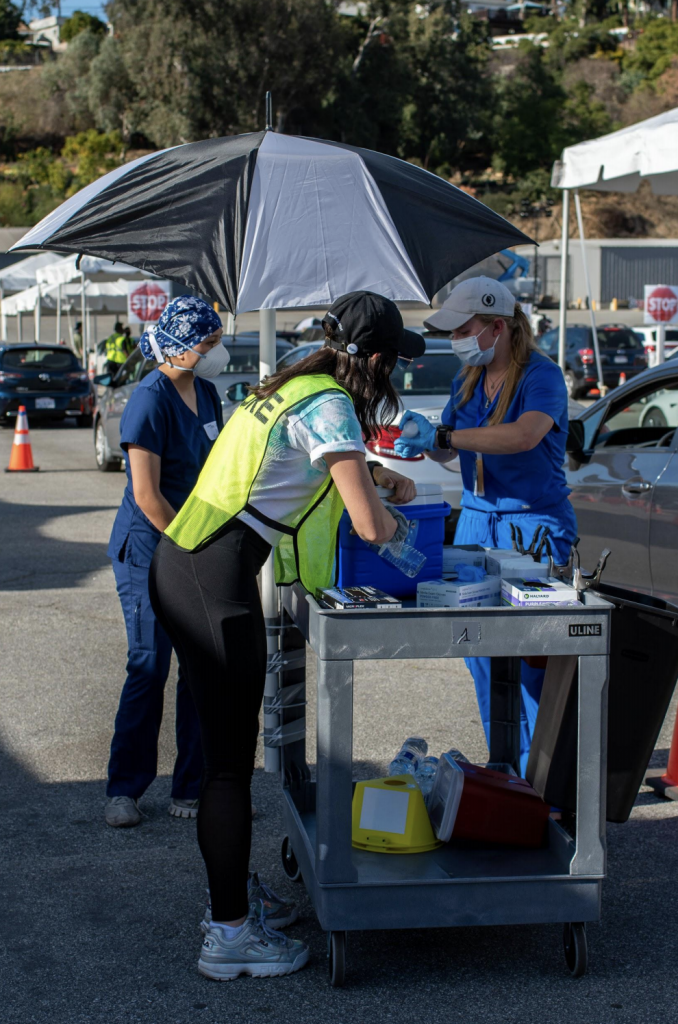 The team was able to come up with innovative operational solutions, including having a vaccine cart that went from car to car; color-coded vests to distinguish functions among staff; a tracking system created by medical students to track which vaccines should be used first; and yellow magnets placed on cars to indicate observation time needed. Initially, it took as long as 4 hours for a person to receive a vaccination; currently, time can range from 2 hours to less than 30 minutes depending on the crush of the crowd. "Everything needs to work together to be functional," Crespo said.
CORE also runs mobile units giving 4,000 doses a day; a drive-up and park unit giving 5,000 daily; a walk-in unit at 3,000 a day; and a mobile unit that reaches out to people experiencing homelessness. CORE also works with Access LA, which provides transportation for people without other options.
Lee noted the most efficient and cost-effective model is the walk-in clinic; running mass sites, such as that at Dodger Stadium, can be extremely costly, although insurance reimbursement seemed to be covering most of the costs.
ee also spoke highly of the effectiveness of mobile clinics, which were sent to an area for a week or so. People did not need appointments, and the word that a unit was there spread quickly in a neighborhood. Mobile clinics have administered over 73,000 doses, 90% of them to people of color. The team also hoped to send a vaccination unit to a garment factory to reach undocumented workers.
"Having so many different options is important," Lee said. She expects an emphasis on the mass vaccination sites in next months and then a focus on walk-up sites and mobile units later in the vaccination campaign.
Key Takeaways
Be prepared for unexpected difficulties.
Mobile units are helpful for reaching those without access to computers or wifi or with limited computer skills.
Walk-in clinics may prove to be the most cost-effective option.
The Global Mass Vaccination Site Collaborative was launched as a way for stakeholders directing vaccination campaigns around the world to come together and learn from each other's efforts. This blog series was created to record and share the learning and insights gained from this collaboration. Read blogs from our previous meetings here.