April 9, 2021
By Stephanie Schorow for the Global Mass Vaccination Site Collaborative
How many 75-year-olds get a chance to drive on the Charlotte Motor Speedway? That was one of the draws for a mass vaccination site set up by Atrium Health, a health system serving patients at 42 hospitals and more than 1,500 care locations in the South, when the system pivoted to provide COVID-19 vaccinations in winter of 2021.
The goal was 1 million vaccinations by July 1, explained Becky Fox, MSN, RN-BC, of Atrium Health, during a presentation on April 9, 2021, to the Global Mass Vaccination Site Collaborative. Fox's presentation covered the team's efforts to get a mass vaccination process set up, from the planning to the adjustments along the way. One of the initial drive-through sites was the Speedway because, as the staff joked, "No one knows how to move cars faster than a speedway."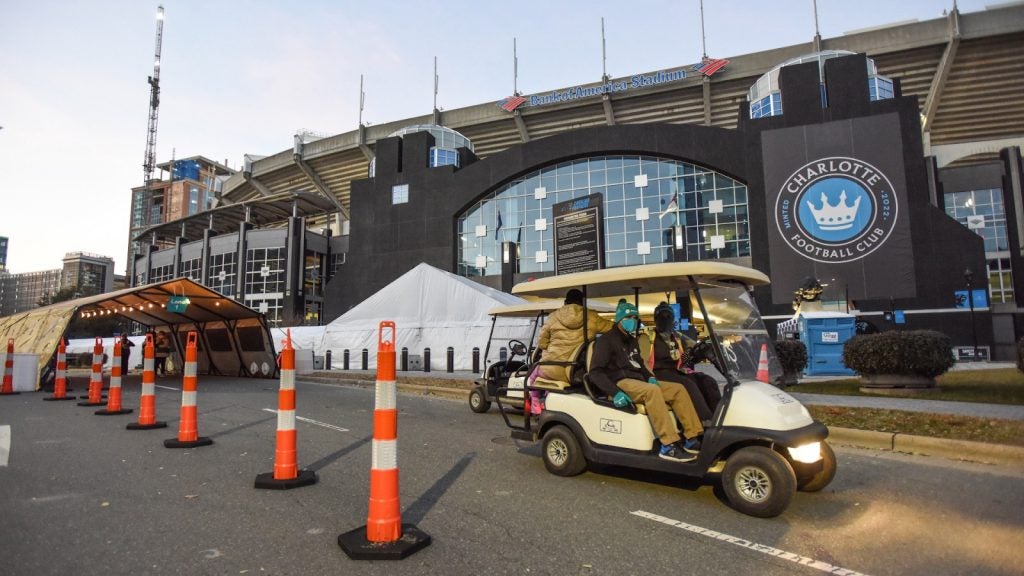 With less than a week to prepare, Atrium launched its vaccination efforts in partnership with Bank of America, Honeywell, and Charlotte Motor Speedway. They provided not one but two large mass vaccination events, including the first in North Carolina. The team used innovative creations that allowed patients to be processed in less than 45 mins, with a 22–25 min average. For example, a screening app sent via text message to patients prior to their appointment identified the patient and screened them for 15 or 30 minute wait times. Multi-field barcodes sped up the medication documentation and required state registry documentation processes. The medication process requires 9 different fields to be documented, which is cumbersome when processing 500–1000 patients per hour, Fox shared. Instead, the 60-second process was brought down to two seconds. "A reporter called us the world's largest pit crew," Fox said.
Some challenges emerged from the patient population and sites. "A lot of patients came in with what I called the 'vaccine fog,'" Fox said. "These were patients who were emotionally overwhelmed by the pandemic, the vaccination efforts and had trouble focusing, so we had to really ensure our communications, our signs, and our processes were smooth, as we were committed to also delivering an outstanding experience." With a different format of both a walk-in and drive-through site at the Bank of America Stadium, less than five days after the first event, this posed additional difficulties. Because parking was some distance from the vaccination site, staffers provided personal concierge service to those who needed it via wheelchairs; one staffer racked up 37,000 steps in a day taking patients from their car, through the experience, and then returning the 0.2 miles back to the parking garage.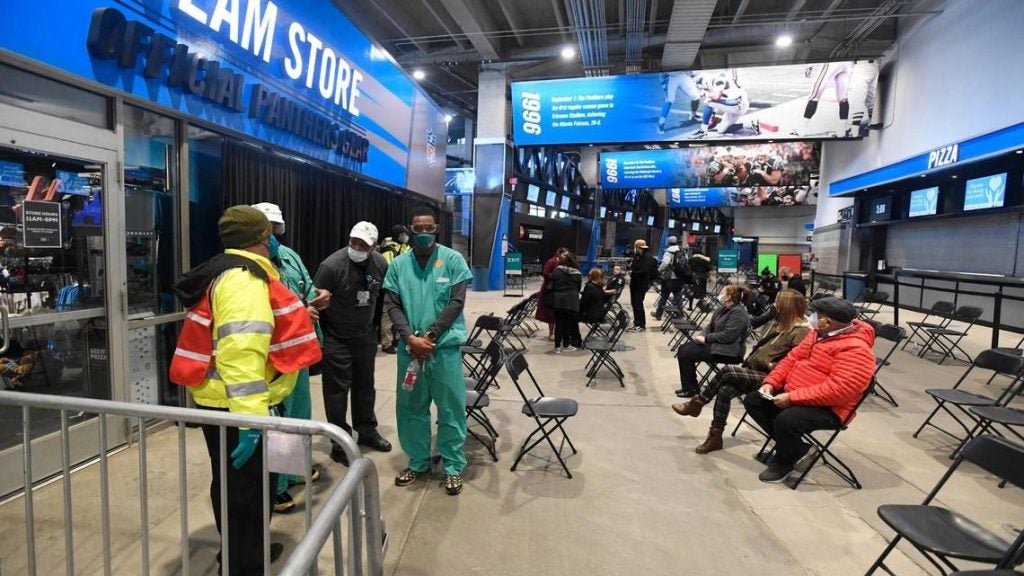 Burnout and trauma for staffers — who had already been dealing with COVID-19 for months — was a prime concern. The "Fill Your Tank" Program was developed for the mass vaccination events, asking front-line staff to work in the vaccination lines, where hundreds of times a day, they heard, felt and saw gratitude from patients and the community. "We wanted to make it a great experience for the team AND the patient," Fox explained, "and we heard over and over again from staff, how this was some of the most meaningful work they felt they had ever done, and truly the best of Atrium Health and humanity shining through."
The mass vaccination events and lessons learned were spread to other events held in the community at surrounding counties and included other sites such as colleges, universities, and at the airport in partnership with American Airlines.
The team was confronted with the question of: How do we get vaccinations to people at home without transportation? The decision was made to send small groups of nursing staff to pods of housing locations. No-shows were a problem. During spring break, 4,500 people signed up but only 4,000 showed up.
Key takeaways
Utilize healthcare staff, especially nurses, to lead the efforts.
Think like Disney and "prime the line" so that people get through quickly with the goal of making it a pleasant experience.
Keep track of data and use it to make real-time adjustments. For example, if you find you are running no-show rates of 2–3 percent, schedule more appointments using social media to alert people.
Manage private-public partnerships for effective results.
Set up processes and policies so doses can be taken off-site to manage the left-overs, i.e., establish a chain of custody.
People feel more comfortable going somewhere in the community rather than being shuttled to another location.
The Global Mass Vaccination Site Collaborative was launched as a way for stakeholders directing vaccination campaigns around the world to come together and learn from each other's efforts. This blog series was created to record and share the learning and insights gained from this collaboration. Read blogs from our previous meetings here.
---