By Merrick Schaefer, Julie Rosenberg, Iman Ahmad, Ariel Frankel, and Rebecca Weintraub
The Ministry of Health just established the COVID-19 Recovery Task Force to get the entire population of your country vaccinated as efficiently and equitably as possible. You are being brought on to develop a strategy and manage the roll out and scale up of Digital Health applications to expedite vaccination.
You must navigate the challenges of generating demand for the vaccine, allocating the vaccines from COVAX, distributing the vaccine, and verifying coverage in the midst of arising shocks to the health system. Are you up for the challenge?
On July 15, 2021, 30 students from 12 countries in the Global Health Delivery Intensive program — a program for mid-career professionals co-sponsored by the Harvard T.H. Chan School of Public Health and Harvard Medical School — took on this challenge as participants in the virtual game, Architects of Digital Health: COVID-19 Vaccination Campaign. This game was adapted from the original Architects of Digital Health developed for the World Health Organization – International Telecommunication Union course Digital Health: Planning National Systems, developed with USAID support. It borrows from and builds on the Framework for Vaccine Delivery that Weintraub and colleagues from Ariadne Labs laid out in Health Affairs.
The goal of the game is simple: Everyone Protected. Through play, leaders learn to plan ahead and understand the complex tradeoffs public health leaders must make in order to strengthen health systems in the midst of uncertainties such as those that come with a global pandemic. They learn that the delivery of the COVID-19 vaccines requires an adaptive system and four interconnected vaccine delivery strategies: 1. Generating demand for the vaccine, i.e., the population must be willing to get it. 2. Allocating the vaccine, i.e., determining where the initially sparse supplies need to go. 3. Distributing the vaccine, i.e., delivering the vaccine at the right temperature to the right places at the right time, and 4. Verifying coverage, i.e., tracking population metrics and individuals' vaccination status.

Architects of Digital Health aims to allow players to try various approaches, fail, and see what it takes to succeed.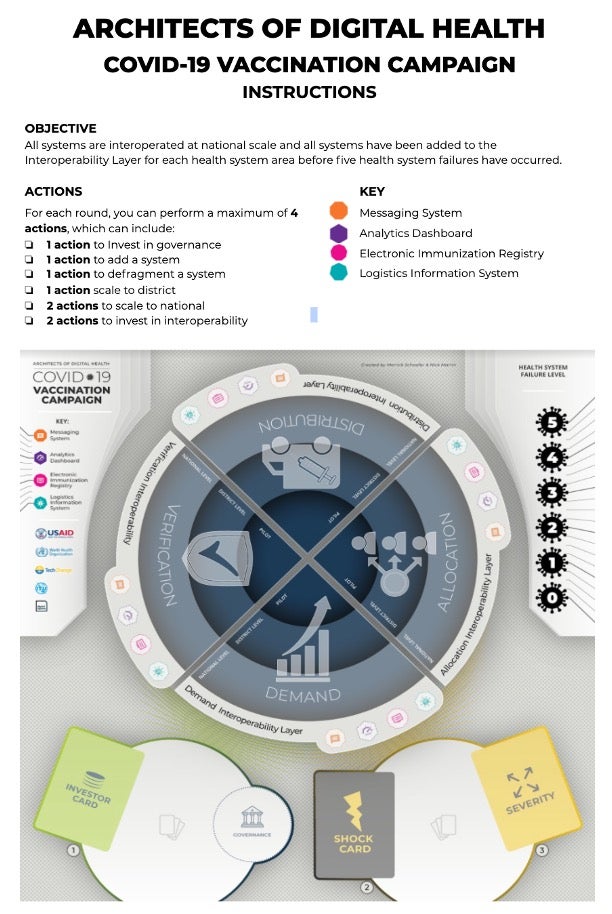 The game begins with a set of randomly distributed pilots of digital health tools. During each round, which mimics a three-month planning cycle, the decision maker "has enough budget" to take four actions: adding a system, defragmenting a system, investing in governance, investing in scale-up, and/or investing in interoperability. Each round also brings shocks to the system, such as changes in leadership, new investment vehicles, and governance structures. The shocks reflect real-world scenarios: vaccines spoil due to lack of cold chain, contradictory public health messaging, lower vaccine supply received than expected. The goal of the game is to invest in the right digital tools in the right sequence to avert a crisis. Players have five chances — health system failures —before the Minister of Health is asked to resign.
Players take away several key lessons from playing Architects of Digital Health:
Investing in governance pays off.
Global standards on privacy, data ownership, and interoperability are helpful.
Planning, predicting, and preparing systems for the introduction of new technologies, treatments, and vaccines is integral to successful implementation.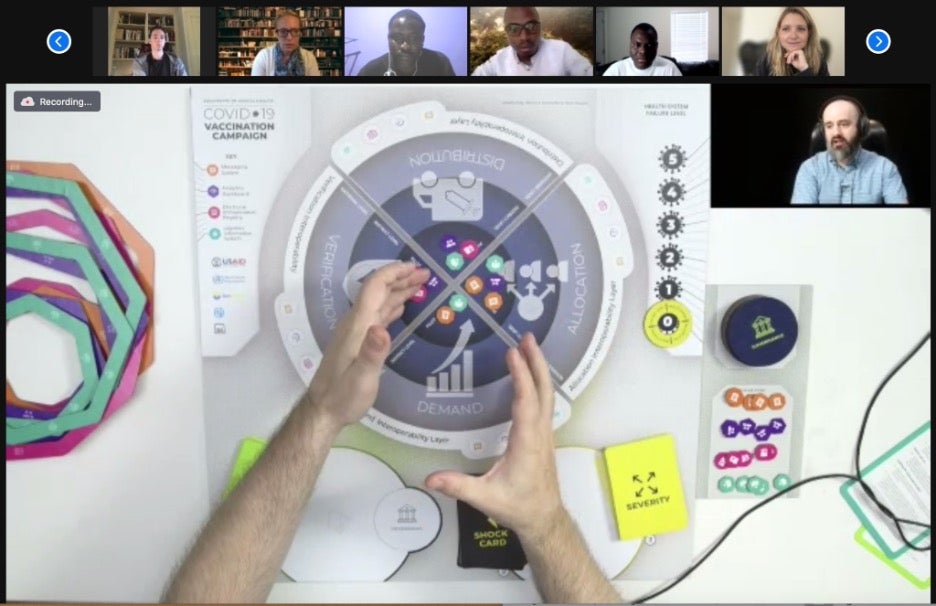 Student players found the game mimicked actual situations. "You never actually know what will happen, but having the foresight to think one or two steps ahead and also intentionally thinking about how your actions or decisions will implicate others was a great exercise. The real challenge was trying to balance the political necessities, needs, and imperatives with the implementation of various digital health tools," said one.
Another student said the board game was a well designed tool and that making the best decision on the next appropriate move was predicated on several moving parts. "It provided a perspective on all of the key aspects that need to be properly considered and how one decision could impact another area," the student said.
"All governments should play this game," said another student. "It's important to know what moves are best and how to think in a collective way instead of just acting by country or nation or district level."
Game-based pedagogy or gamification is a promising tool for improving learning outcomes by strengthening learning behaviors and attitudes towards learning. Schaefer, reflects:
" If I learned anything from the Ebola crisis, it was that you had to stay in learning mode the whole time and be constantly questioning what you are doing and asking yourself if there is a better strategy and what have we learned. We must then utilize these learnings and simulate the experiences to prepare ourselves for the uncertainties that may arise."
—
Rebecca Weintraub, MD is the Director of Better Evidence at Ariadne Labs and has been leading the Global Health Delivery Intensive program for more than a decade, along with team members Julie Rosenberg, MPH and Iman Ahmad, helping to train leaders in managing health care delivery.
Merrick Schaefer is the Senior Digital Health Advisor at USAID's Center for Innovation and Impact in the Global Health Bureau, and creator of Architects of Digital Health (along with Nick Martin of TechChange).

Ariel Frankel, MSPH, is the Director of Public Health at TechChange.