March 25, 2022
By Stephanie Schorow for the Global Mass Vaccination Site Collaborative
When public health officials in northern Ghana, a region with a population of a little over 2 million, began the push for COVID-19 vaccinations, they found a significant portion of the population didn't believe COVID-19 existed. Or if it did, it wasn't a serious problem. Still, even those who didn't think the virus was a problem indicated that they had trust in the health system. "You can bring the shots to us," many said.
And that's what Ghana health officials did, said Hilarius Abiwu, MD, Deputy Director of Public Health for the northern region of Ghana, speaking at a March 25, 2022, online presentation to the Global Mass Vaccination Site Collaboration, an initiative by Ariadne Labs and the Sabin Vaccine Institute's Boost Community.
Beginning in March 2021, mobile vaccination teams went house to house to engage with people. Teams set up vaccination sites and information stations at football matches, churches and mosques, community outposts – anywhere people congregated.
"Our markets are constantly busy, our bus stations are constantly busy. We had to get our teams there," Abiwu told participants.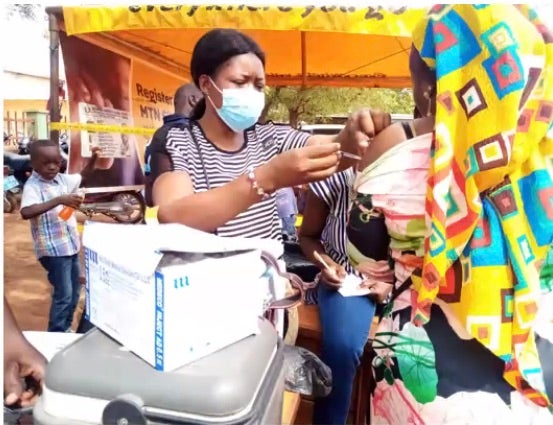 In market places, health officials worked with the "Market Queens," the powerful women who oversaw the markets, to allow them to set up teams at exits and entry points and to make public announcements that vaccinators were there. They won the trust of a local pastor who allowed them to set up a vaccination site outside a retreat that attracted 3,000 to 4,000 participants. Health teams also focused on high schools and Independence Day celebrations. Football associations, transport unions, and the Ghana Education Service proved to be helpful collaborators.
Due to previous vaccination campaigns and other health initiatives, the population – from those eager to get a vaccine to those who were hesitant – had a good measure of trust in the overall health system.
Abiwu said Ghana public health officials had four objectives for the vaccination effort:
Contain infection and limit its spread so regional health facilities are not overwhelmed.
Mitigate the impact of COVID-19 on routine health service services.
Explore opportunities within COVID-19 to strengthen the health care system.
Align management of outbreaks with the national strategic health goals while looking for innovation.
Challenges included a lack of funds, the limits of vaccine shelf-life, and a lack of auxiliary supplies such as cotton, tables, and tents. There was a need to train health workers to give shots. At the beginning they didn't have a lot of vaccines so the impact on other services was minimal, Abiwu said. Then regions began to receive an influx of about 1 million vaccines from AstraZeneca, Janssen, and Pfizer-BioNTech and "we had to bring a lot more staff to be involved." As of February, 2022, about 740,220 doses have been distributed.
Teams struggled with data management due to large numbers of people vaccinated per day, coupled with poor internet connectivity and slow response time of the app designed to track vaccinations.
As in many other countries, the spread of misinformation about COVID-19 and the vaccines was an issue; Ghana health workers used radio and social media to track and respond to rumors.
"We realized that attendance at pregnancy clinics was low because of rumors that vaccines were a family planning intervention; pregnant women felt targeted," Abiwu said. "From that, we learned to engage with our pregnant women to see what's going on in their minds and help reduce hesitancy."
The goal has been to get 70 percent of the northern Ghana target population vaccinated – about 1.26 million people. Currently about 39 percent of the target population has received one dose; about 16 percent is fully vaccinated. "We have quite a long way to go in terms of reaching the target," Abiwu acknowledged.
However, efforts have been made easier by the country's previous immunizations programs; that formed a bedrock of trust in the health care system. "That helped significantly in the northern region," Abiwu said. Working with trusted leaders and representatives was also a benefit. And if funding increases, Abiwu sees positive results. "If we have funding, we seem to get a high uptake," he said.
The northern region of Ghana recorded its first COVID-19 case on March 25, 2020, about two weeks after the first case was reported in the country, Abiwu said. According to WHO, there have been 160,971 infections and 1,445 coronavirus-related deaths reported overall in Ghana since the pandemic began. As of March 29, 2022, a total of 13,047,826 vaccine doses have been administered in all of Ghana.
And, said Abiwu, as of that day there were no active cases of COVID-19 in the northern region.
The Global Mass Vaccination Site Collaborative was launched as a way for stakeholders directing vaccination campaigns around the world to come together and learn from each other's efforts. This blog series was created to record and share the learning and insights gained from this collaboration. Read blogs from our previous meetings here.