In the first of a series of events to mark Ariadne Labs' ten-year anniversary, Asaf Bitton, MD, MPH, the labs' Executive Director, led a discussion on April 5, 2023, about the future of public health and health care with Michelle A. Williams, SM, ScD, Dean of the Faculty of Harvard T.H. Chan School of Public Health, and Robert S. D. Higgins, President of Brigham and Women's Hospital and Executive Vice President of Mass General Brigham.
The trio identified challenges facing the U.S. health system and outlined solutions, frequently citing the innovations and design process of Ariadne Labs. They addressed tough issues such as the need to balance investments in both acute care and public health, the diminishing health care and public health workforce, and the slow speed of instituting innovations. They also stressed the need for focused and strategic public health strategies to inform legislative bodies and lead to action.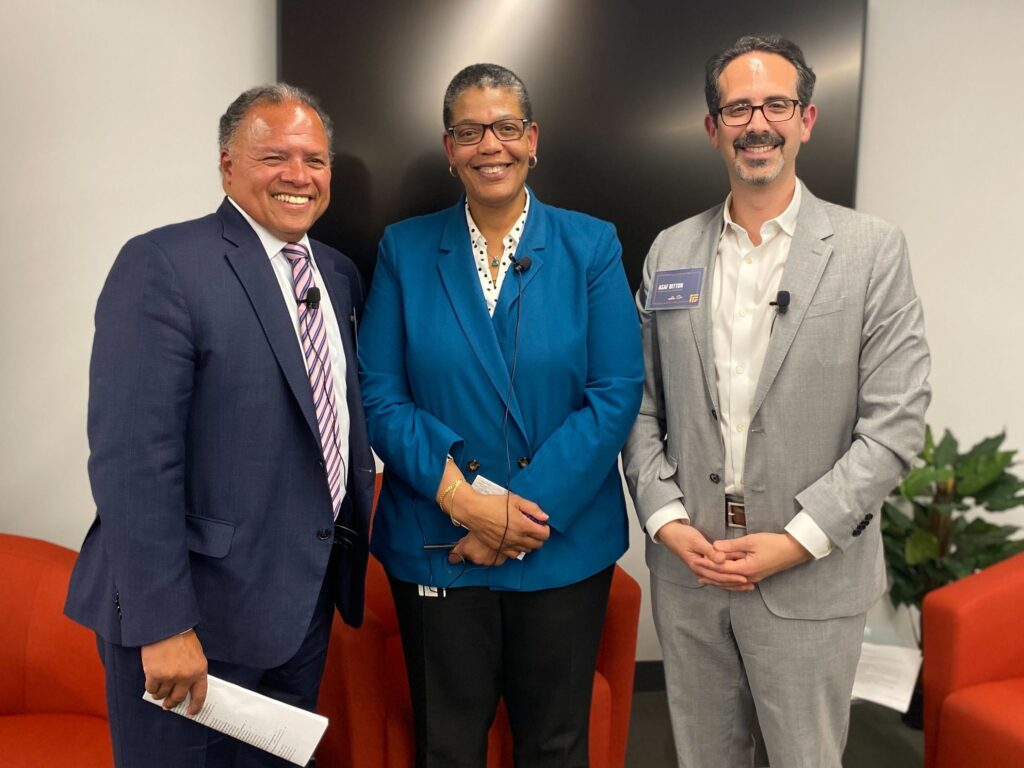 Williams began her comments by noting that one of public health's biggest challenges is to ensure that civil society understands just what public health really is and that governance structures should be held accountable for appropriately funding public health.
"The work that you do at Ariadne Labs – at the intersection of population health, public health, and primary health care – is the best way to illustrate … that public health is something that is relevant, touching everyone's life," Williams said.
She singled out Bitton's description of public health as something that is both "across the street and across the globe" as a key message.
"If we make our work less opaque … we might have a real shot at getting the right balance for investment and recognition," Williams said.
One of the topics discussed was how to increase funding for public health without taking away money from other health areas. Bitton noted that the U.S. spends about $13,000 per person annually on health care; only $300 of that goes to public health and $400-$500 on primary care.
"If we think about this through the lens of the codependency of our population health, primary health care, and acute care, we should see that this is not a competition, but a very delicate dance and balance of our responsibilities," Williams said. "We spend more money on health care than any country on the planet. But our statistics are horrible. We're not getting value — and it's not because of lack of investment. It's because where we have invested is out of balance with where the needs are."
Higgins stressed the need to invest equally in terms of prevention and education. Ultimately, he said, treatment of conditions such as high blood pressure and diabetes will impact cardiovascular health and reduce the need for acute care, emergency service, and hospitalization.
There is a need, Bitton said, "to bind together" all aspects of the health care systems. This is why Ariadne Labs builds solutions that span medical care and the patient journey as well as population health and equity, he said.
"I don't think you can say it loud enough: The work that the people in this room are doing across the country and across the globe is incredible work, but we need to make sure that people hear it," Higgins said. "Our legislative leaders are inundated with requests…. Many times they don't necessarily understand the impact of investments in public health, which pays dividends to avoid a serious illness down the line."
Higgins' point about amplifying the calls for public health investment resonated with Williams.
"I think it's really important that we in public health make a stronger case that, in addition to identifying the problems, we also engage in coming up with solutions," Williams said. "Coming up with solutions inherently allows us to be humble and to talk about what Ariadne is really good at, and that is identifying the problem and starting to craft a solution."
Solutions to many of the issues raised by the panelists can be addressed by the processes that Ariadne Labs has adopted, Williams noted, including generating data, using human-centered design, conducting rigorous and robust testing, and finally spreading solutions.
One of the chief challenges for public health is equity. Higgins cited his experience during the ongoing COVID-19 pandemic in Baltimore that showed public health resources were not equal among populations. Many people were reluctant to get the COVID-19 vaccine due to a lack of trust in the medical system. Yet "we could save hundreds, maybe millions of lives if patients only trusted the system," he said.
"Creating a trustful work environment where patients can come and get great care from providers that they trust is really critically important," Higgins said.
Bitton brought up the problem of the decrease in the health care workforce. "One out of five people who were clinicians of all types are gone," he noted. He asked the panel to consider how to move forward to rebuild the workforce now and in the future.
"I think a sense of appreciation for our workforce which is genuine and honest," Higgins said. "We (must) recognize that their well-being is as important as (that of) their patients, because they can't provide care if they're not satisfied, happy, or appreciated."
Williams added, "We've got to make sure that we're equipping the workforce with the right skills for the problems they're facing today." This requires "real investments and rebuilding the infrastructure and putting tools in the hands of our workforce that will allow them to manage the volume of work that they have but to do it in a humane way."
Bitton expressed concern about the slow pace of implementing health innovations. It takes about 17 years from proof that an innovation works to its widespread distribution, Bitton said. "That implementation gap, I think, is both unjust and inequitable and unacceptable. That animates a lot of what we do here at Ariadne (which is) to make it easier to do the right thing for all people, not just some people, but all people."
There has to be a mindset shift, Williams said. "The mindset shift has to be that we need to be intentional in closing the gap of what we know and what we do, and do that with a sense of urgency, because we know there's human suffering and preventable deaths that we can stop."
Higgins sees a role for Ariadne in closing this "know-do" gap. "The next generation of health care providers have to be nurtured. recruited, and certainly given the tools they need to be successful," he said. "That's what I think Ariadne will do. Because if you train the next generation of public health leaders, it will make a big difference."
During the question-and-answer period, the panel was asked by a primary health care physician from Mexico about how investing in public health could hurt the bottom line of the health care industry. In response, Williams cited the case of Kaiser Permanente, which decided to build housing when it became clear the health care system was losing significant resources because of the recidivism of homeless people coming into the emergency department. "The way you frame the question does not always have to be profit in opposition of service," she said.
Higgins followed up, "If you think about the business aspect of this as being better stewards of the resources that we have, this will allow us to continue to provide care for those who are desperately in need while preventing those who aren't so desperately in need from using inpatient and acute care services."
Moreover, Higgins expressed optimism about the future. "If you think about the next generation of health care providers, whether in public health or medicine, they may raise the bar in terms of commitment to the community above self. I think that many of these young people are principled in their focus on how they are going to have an impact in this world, which is different than my generation."