Ariadne Labs' BetterBirth team, in collaboration with Jhpiego India, found that Manyata significantly improves clinicians' knowledge, skills, and adherence to clinical standards in private facilities
While India has made remarkable progress in public health, the country has some of the world's highest numbers of maternal deaths. Many Indian families seek out private hospitals or facilities when giving birth with the expectation that they will receive higher quality care than in public health systems. However, data on quality of care in private facilities in India is lacking.
Thus, in 2013 the Manyata (Hindi for "accreditation" or "recognition") program was initiated by the Federation of Obstetric and Gynecological Societies of India (FOGSI) to improve the quality of maternal health care in India's private sector. The Manyata program establishes a certification process that requires private facilities to adhere to proven childbirth care clinical standards, including antenatal care, prevention of postpartum hemorrhage, adherence to infection and complications protocols, cesarean deliveries, and respectful maternity care.
Manyata was developed based on the WHO Safe Childbirth Checklist and adapted under the guidance of FOGSI, with technical assistance from Jhpiego, an international, non-profit health organization affiliated with Johns Hopkins University. The program currently operates in seven states: Maharashtra, Tamil Nandu, Karnataka, Uttar Pradesh, Jharkhand, Rajasthan, and Haryana.
To study the effectiveness of the Manyata approach, a team from Ariadne Labs' BetterBirth Program worked closely with implementation colleagues at Jhpiego India to co-develop an evaluation strategy to understand how the program was affecting key quality metrics, and what factors contribute to successful implementation of the program.
"One of the findings from tracking women and babies in the BetterBirth Study was that many of them left the public sector hospitals whenever they had a problem and went to the private sector, thinking that the quality is better," explained Megan Marx Delaney, RN, MSN, MPH, a Research Scientist with the BetterBirth Program who led the Manyata evaluation. "And so we started thinking about that issue, but we didn't have any data. There's very little data about the private sector."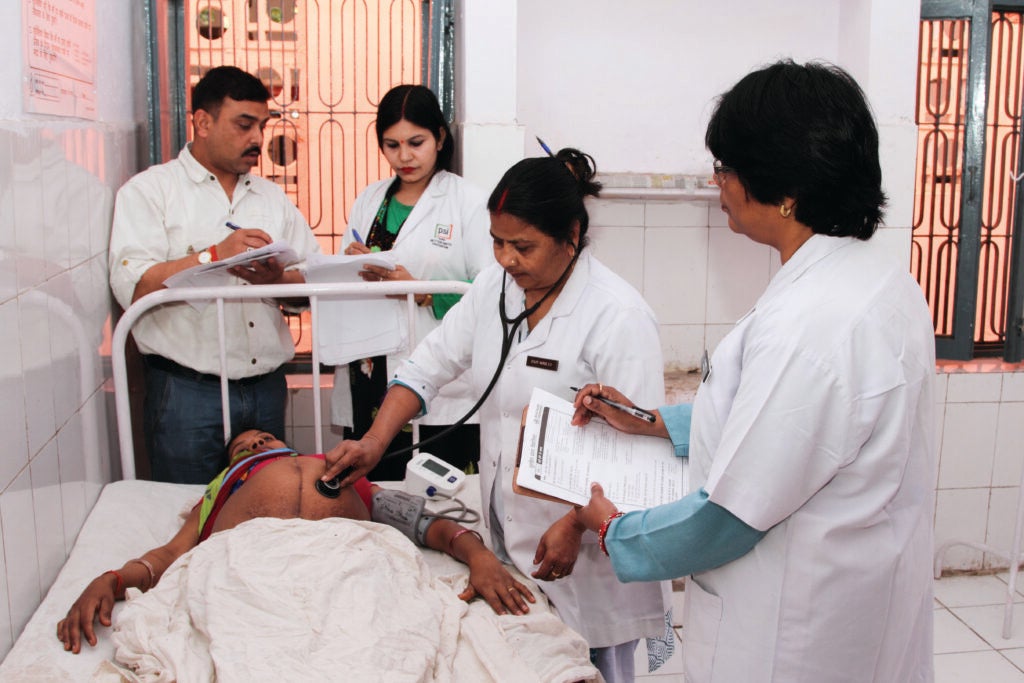 The BetterBirth team worked with Manyata to determine how different models of the program (in-person, virtual) affected the quality of care, providers' adherence to clinical standards, and achievement of certification. Ariadne's team implemented a rigorous qualitative study and collaborated with partners to conduct and analyze 184 interviews across four states and nine stakeholder groups; interviewees included physicians, nurses, FOGSI assessors, implementers, and others. Additionally, Ariadne used data from the program to evaluate changes in staff knowledge and skills, adherence to practices, health outcomes, and patient-reported experiences.
In a recent publication in Global Health: Science and Practice, the team showed that Manyata significantly increased providers' average knowledge and skill scores, as well as their adherence to evidence-based clinical standards. These findings highlight that the program offers an effective model for improving the quality of care at private maternity facilities in India. While there were no significant changes in the rate of complications, there was a decline in referral rates from the private facilities for complications such as pre-eclampsia and newborn sepsis management, signaling providers' improved confidence in addressing these complications when they arose.
From their analyses, the team developed a set of key findings and recommendations to support the program's continued scale in India to support quality improvement throughout the country. In particular, they identified factors that motivated facilities to join the Manyata program, the program's impact on helping facilities succeed in improving outcomes, and how facilities sustain quality improvement efforts in the long-term.
Join. The team found that access to staff training, strategies to improve care, and the program's affiliation with FOGSI were the primary motivators for facilities to join Manyata. To further boost motivation, the team recommends expanding recruitment efforts to reach new facilities and communicating a clear process for facilities to follow from recruitment through accreditation.
Succeed. Findings showed the Manyata program had a positive impact on improving clinicians' adherence to standards, staff knowledge, and clinical skills. To further improve success, the team recommends developing additional strategies for complication management and adherence to standards for Cesarean deliveries, which did not significantly improve following program implementation. They also recommend using hybrid training models and a tiered approach to offer different levels of training and mentoring support depending on the needs of each facility.
Sustain and Scale. The team found that stakeholders felt that the improved standards were sustainable at the facility level, and that it was feasible to scale the program nationally and internationally. To further support the need for ongoing training and recertification, the team recommended developing post-certification support, options for refresher trainings, and trainings for facilities and staff on building a culture of quality.
The findings from the BetterBirth team's evaluation will inform Manyata's strategy for continued expansion. Following the conclusion of the third phase of Manyata in 2022, the program plans to build on its successes and continue to scale the program, with the goal of achieving 60,000 facilities with the "Manyata" seal across India in the next few years.
In a major step in scaling the program, Manyata has recently been incorporated into the National Accreditation Board of Hospitals and Healthcare Providers in India, a nationwide quality council. "Hopefully, this will pave the way for the adoption of quality going forward. This milestone couldn't have been achieved without the evidence we have collected," said Pompy Sridhar, Director of India Program, Merck for Mothers (known as MSD for Mothers outside of the United States and Canada).
"Manyata offers a real-life example of how professional societies like FOGSI can foster quality in the private sector. This evaluation is a critical step in continuing to improve and strengthen the program in order to ensure high quality care for every birth," said Marx Delaney.