In our Five-Question series, we highlight the staff and faculty behind the compelling work at Ariadne Labs.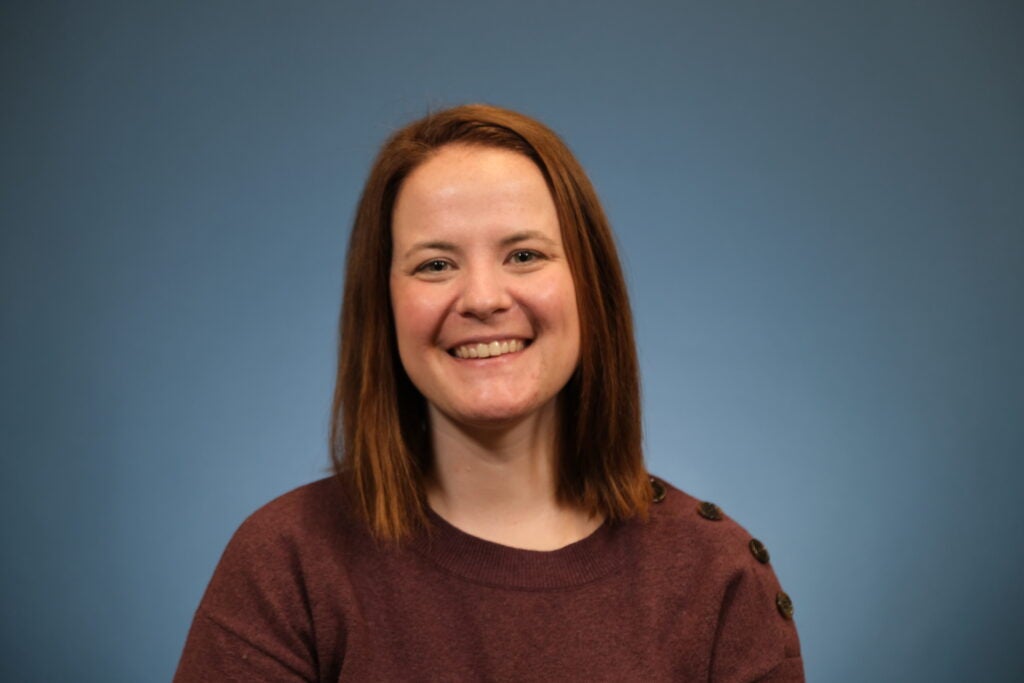 Three years ago, when COVID-19 began to spread, the world was thrown into a state of panic and uncertainty. Francine Maloney, MPH, then the Assistant Director for the Implementation Platform at Ariadne Labs, knew something about living with uncertainty. She decided to share her experience by writing an extraordinary blog about her diagnosis at age 12 with complex regional pain syndrome and severe gastroparesis at age 30. In particular, she focused on the difficulty she faced in getting a life-saving procedure to insert a feeding tube as the pandemic was shutting down hospitals.
For the general population, "every day was uncertain. We didn't know what was going to happen," she recalled. "That was sort of the life I lived from the time I was 12. And it's the life that many people with disabilities and chronic illness experience all of the time." She shared lessons she learned from her experience living with uncertainty. We can do this, she emphasized.
Now the Director of the Implementation Platform, Maloney brings deep sensitivity, knowledge, and compassion to her work at Ariadne Labs. Maloney has an MPH in Health Law, Bioethics, and Human Rights from Boston University School of Public Health and a BA in Philosophy/Ethics from Simmons College. She joined Ariadne Labs nine years ago, first working with the Serious Illness Care Program and eventually moving to the Implementation Platform, which works across all the lab's projects and programs to support the spread of our tools and resources.
Q: What inspires you about working at Ariadne?
A: What inspires me is the direct impact that we have on patients and clinicians. Seeing that impact really inspires me to stay here and keep doing this work that can be challenging at times. We choose problems that affect people's daily lives. Rare diseases are incredibly important and need to be worked on, but it's not really what Ariadne focuses on. We focus on things that impact large populations of people that, more likely than not, we will all face at some point in our lives.
Q: Can you give an example of that direct impact?
A: Sure. In some of my work on the Serious Illness Care Program, we were implementing the Serious Illness Conversation Guide for patients with end-stage kidney disease, individuals who were relying on dialysis to survive. We were able to hear from patients what their values and goals were when they had a very serious illness. We would hear answers that may surprise some people. One man said he wished to have a big screen TV. Others gave answers such as making it to his daughter's graduation or seeing a grandchild born. We then saw how their care was changed and aligned so that they could meet those goals in a way that gave them quality of life.
Q: Did your own experience with a serious condition influence you to go into health care as a profession?
A: I always had a desire to go into health care, and my experiences as a patient only solidified that desire. After I was diagnosed and during my high school years I saw multiple specialists, experienced dozens of procedures, and was hospitalized multiple times. I learned how to navigate the very complex, but whole-person focused, system of pediatric health care, and how to most effectively communicate to get my needs met. Beginning in college, as I transitioned from pediatric into adult care, I felt like I was re-learning a new system, despite growing up relying heavily on the health care system. I needed to speak differently, carefully craft a team who cared about me as a patient and person, coordinate more effectively and efficiently, and advocate in ways that at times felt unfair.
During this same time outside of my own medical care, I also had experiences volunteering at a community hospital, worked as an EMT, and worked at a camp for kids with serious illnesses. Through all of these experiences I was able to reflect on my own privileged care and see the acute importance of communication in teamwork from the "other side of the curtain."
All of these experiences motivated me to switch to a pre-med track during college and study biomedical ethics. I conducted research on undergraduate nurses' preparation for having advanced care conversations in the clinical settings while also interning on Brigham and Women's Hospital's ethics services, becoming even more focused on the failures of communication in health care.
After graduation I became a research assistant. One project I was working on had started by reviewing hundreds of malpractice cases in order to identify areas that cause the most harm to patients, with the goal of then creating a solution to close that gap. In reviewing those cases I learned almost every case includes a failure of communication. It was that project that finally helped clarify for me this gap that I had been experiencing for so many years, and helped propel me to get my degree in public health. Soon after I finished my degree I began looking for jobs in palliative care, and not long after I was at Ariadne.
Q: From a patient perspective, do you see Ariadne Labs addressing gaps you've experienced?
A: Directly! I'll share two examples, but there are so many. A few years ago I was very sick and my quality of life was suffering a lot. I had some of the best clinicians I could ever ask for. To say that I trusted them with my life is both the truth and an understatement. At the same time, my care was not aligning with my goals. Their focus on the big picture clouded the need to address my day-to-day experience. At the time, the Serious Illness Conversation Guide was primarily being used for patients who had a terminal disease, and not those with chronic illnesses, but I believed it would really help my care. I shared it with my clinical team – our relationship was one that encouraged me to do something like this – and we used it during one of my appointments. The guide went from something I heard impact others to immediately changing the care I was receiving.
My second example is how I've seen our ideas – not always a specific tool but sometimes the vision of a project – show up in my care. During one of my surgeries there was a technical error made by a clinician resulting in the need for an additional surgery (and lots of pain!). Immediately after the second surgery, when the error was discovered, the surgeon apologized and disclosed this error to me. Apology and disclosure of medical errors is an area of focus at Ariadne. This was not my first medical error, but this was the first time it was disclosed and I received an apology from an incredibly compassionate surgeon who articulated what they learned from the experience. I am certain other patients and caregivers who experience this also experience the same healing and closure that is missing when it does not happen.
Q: What do you find at Ariadne Labs that you wouldn't find anywhere else?
A: I think that we really focus on follow through. We don't just stop at the research end of it, but we really want to reach every patient, every time, everywhere. We do this by bringing in the expertise of design, research, and implementation for spread and scale as soon as we identify the problem we aim to solve and continually iterating on our solutions as they are adapted and adopted globally. Part of what I love the most about working on implementation is we are so heavily involved in ensuring our solutions are able to be spread and scaled. Our specialists bring their clinical and public health experience, along with quality improvement and implementation science knowledge, to the teams to ensure we plan early for how all of our solutions can be used and adapted in every clinical environment they are intended for, whether it's a state-of-the-art facility or an under-resourced community center.