In our Five-Question Feature to mark the 10-year anniversary of Ariadne Labs, we highlight the staff and faculty behind the lab's compelling work.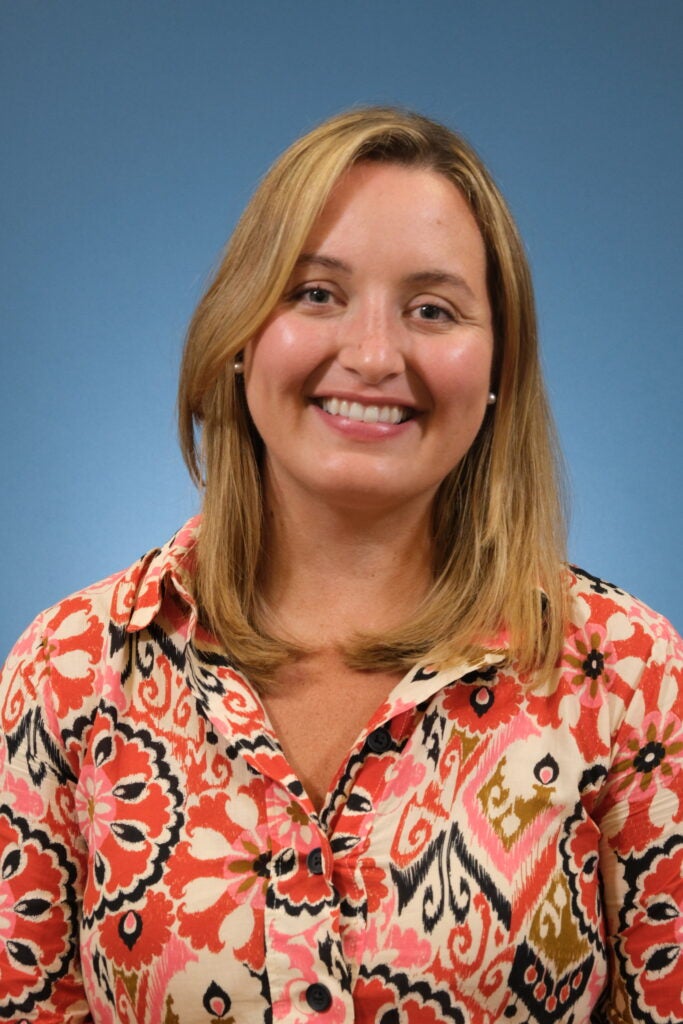 Meghan Long, MHA, the Assistant Director of the Innovation Platform at Ariadne Labs, didn't have a background in human-centered design before coming to the lab. Now, it's her passion.
Long, who hails from Connecticut, has a Bachelor of Arts in Social Thought and Political Economy from the University of Massachusetts -Amherst and a Masters of Science in Healthcare Administration from the University of New Haven. Before joining Ariadne, she worked for two large health systems in Connecticut: the Yale-New Haven Health System, and the Hartford Health System.
Four years ago she joined Ariadne Labs, first as a Project Manager for the Office of the Chief Medical Officer and then as a Senior Platform Manager for the Innovation and Implementation Platforms. In both roles, she led several early innovation projects through background research, prototype development, user feedback, and implementation piloting.
Now as Assistant Director of the Innovation Platform, she leads a team of design, innovation, and project management specialists
Q: What brought you to Ariadne Labs and what has kept you here?
A: What brought me to Ariadne was the mission to create scalable solutions to close gaps in health care delivery. What's kept me at Ariane is the people. The best part, I would say, of working at Ariadne are the people we work with – the amazing humans who are mission driven and make our hard work fun.
Q: How did you come to focus on health innovation?
A: My background is not in human-centered design. My background is in hospital administration. I was always interested in improvement science and supported quality improvement and patient experience initiatives during my time at Yale and Hartford. I didn't know it back then, but a lot of my work at the hospitals used principles of human-centered design. The projects I worked on were aimed at making improvements for providers, patients and their families. While working on these projects, our team would consult with clinicians and patients to ask them about what they needed and wanted out of an improvement. We knew if it didn't work for them it would fail. When I came to Ariadne, I learned about the rigorous methodology of human-centered design through mentorship from colleagues and by being provided opportunities to work on early design projects. I really caught that human-centered design bug and I have been able to work on projects that allow me to grow that skill set.
Q: How would you define human-centered design?
A: Human-centered design is a problem-solving approach. Its origins come from multiple fields such engineering, product development, social sciences, and management. Human-centered design puts humans at the center of a development process; this allows solutions and products to be designed in ways that are practical and that meet the diverse needs of many people rather than just a few.
Q: Can you give me an example of something that was human-center designed and one that is not?
A: Think about the average hospital waiting room. If you talk to patients and families, they're often nervous or anxious waiting for an appointment, and waiting rooms are uncomfortable. There's not much to help people pass the time. Waiting rooms are designed for efficiency. They're meeting a clinical, operational need, but they're not taking into account patients' and families' wants and needs. They're not human-centered. Then, take something like the TeamBirth labor and delivery solution. This was designed taking into account the needs and wants of patients and their providers who will need to use the tool and of the patients whose health care experience will be affected by the tool.
Q: Why is the process of human-centered design so important to Ariadne?
A: I think it really comes back to our mission. At Ariadne we want to design, test and spread tools that impact people's lives and scale globally. By using human-centered design, we are able to create tools that providers, clinicians, and patients and their families are excited to use because their voices have been incorporated throughout the development process. If we create solutions that have the human voices at the center, we have a greater chance of creating sustainable change.