Reversing the maternal mortality trend is a racial, generational, and gender justice issue. How does your advocacy work affect the wellbeing of birthing people?
What local dashboard users are saying:
The Maternal Wellbeing City Dashboard provides data and narratives to help you identify which maternal health priorities may have the greatest impact to improve birth equity in your city. These data can also help you obtain accountability for results, and track progress toward achieving equitable wellbeing for all.
The use cases below provide examples for how you could use the dashboard from your position as a Policy Advocate. One of the most important values of the dashboard is as a tool to engage other local stakeholders about maternal health — check out how others could use the dashboard as a Local Legislator & Staff, Direct Service Provider & Nonprofits, or Civil Servants. Discuss data about the current state and causes of maternal health with community members and colleagues
Find connections between maternal health with other community issues that are priorities for you and your collaborators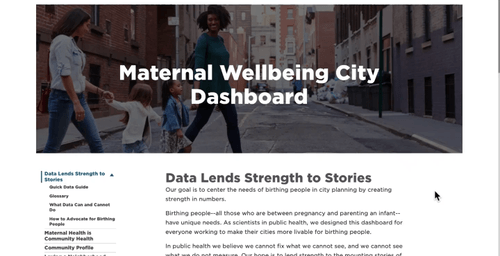 Review the graphic on the landing page to understand the different neighborhood and community factors affecting maternal health
Explore the main pages for connections between issue areas that interest you and other community issues or work that you could build upon
Review the most relevant domain pages under those issue areas and incorporate the narrative into your conversations with collaborators to connect community health and maternal health issues

Advocate for local government and organizations to be accountable for anti-racist data collection
Understand what the current data can and cannot tell us about maternal health to identify opportunities improve local data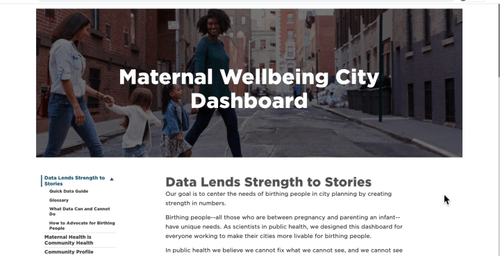 Find the "What Data Can and Cannot Do" page on the left hand tab menu (under the "Data Lends Strength to Stories" dropdown)
Read about the strengths and limitations of existing data sources
Review the opportunities to improve data for birthing people and identify actions that you and your organization can take or advocate for

Advocate for maternal health programs and policies with your local government
Identify data or visualizations that support your priorities for testimony, policy briefs, meetings, or events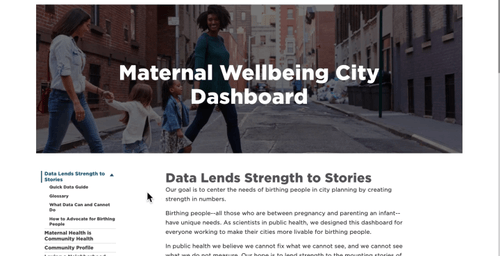 Find the "Quick Data Guide" page on the left hand tab menu (under the "Data Lends Strength to Stories" dropdown)
Review the domains and indicator lists to identify the data or narrative that aligns with the programs and policies you aim to promote
Navigate to your domain(s) of interest and copy or download narrative, data points, visualizations, or references to support your work