Senior nurse Drivdi Katial credits BetterBirth with happier mothers and fewer infant deaths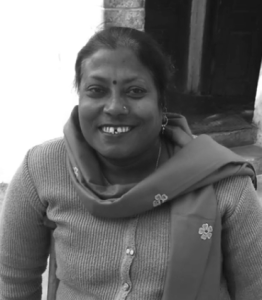 At the Ganj Muradabad community health center, it has been standard practiceto give every mother a labor-inducing drug at the start of labor in the belief thatit was beneficial. However, the drug was being administered long before it wasclear whether the women needed it.
Today, that is no longer the practice, one of the many changes implemented in the past two months as part of the BetterBirth Program in Uttar Pradesh, India. Ganj Muradabad is one of 120 facilities participating in a large-scale study of whether Ariadne Labs' BetterBirth Checklist and Coaching Program can reduce maternal and neonatal deaths. Ganj Muradabad averages just over 100 births per month and 1,300 births annually.
The program is making a significant impact, said senior auxiliary nurse midwife Drivdi Katial.
"Since we started using the checklist we haven't had any early newborn deaths,"she said. Katial is in the midst of the eight-month BetterBirth Coaching Program. A local nurse, Amrita Singh, who was trained by Ariadne Labs partner Population Services International, is coaching her and the center's three other birth attendants. Singh guides them on how to use the checklist, flags areas where improvement is needed and ensures they have resources and support to implement the changes.
The program has been welcomed at Ganj Muradabad. "In our heads, we have nothing else but the checklist," Katial said. Even with 20 years of experience delivering babies, Katial said she has learned from the BetterBirth study. She feels she is providing more holistic care for her patients through the new medical and educational procedures.
One reason mothers are happier, Katial said, is the introduction of BetterBirth's post-delivery practices. Now, birth attendants take time to educate mothers on trouble signs to watch for in their newborns and themselves when they go home. The first week after birth is a high-risk period for infants, and the first 28 days post-partum sees the highest death rates for mothers. The trouble signs are outlined in the BetterBirth Checklist.
In addition, the birth staff also provides new mothers with family planning options before they go home. Family planning was never part of the discharge process in the past, Katial said, but the BetterBirth Checklist has reminded them of its importance to maternal health.
"We sit with them and we explain all of this to them," Katial said. "They really listen to us and appreciate what we tell them."