Boston anesthesiologist is promoting change in the OR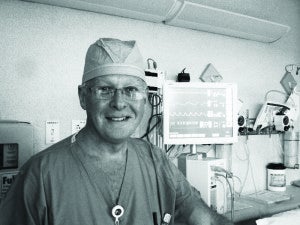 Boston anesthesiologist Alex Hannenberg remembers doing surgery before the Ariadne Labs Safe Surgery Checklist became the standard of surgical care around the world. With no systematic process for conferring with the surgeon, surgical teams would occasionally be caught by surprise by complications or blood loss.
With the Safe Surgery Checklist in place, Dr. Hannenberg says, surgical teams take time to communicate and plan based on the surgeon's expectations of an operation's duration, level of trauma and blood loss or instrument needs.
"This disciplined approach to sharing critical information fills in the gaps," said Dr. Hannenberg, who, as the past president of the American Society of Anesthesiologists, has championed use of surgical checklists within the professional anesthesiology community and at his hospital, Newton-Wellesley. "Some information is not available on the printed operating room schedule and may not be evident to every member of the team. The final and best chance for the entire surgical team to be on the same page is that conversation."
The strengths of the Ariadne Labs checklist are its clean, simple design and its adaptability, Dr. Hannenberg said. At his hospital, the surgical teams are piloting a project that re-organizes the checklist's 19 steps from three parts to four, so that more preparation and conversation occurs prior to the induction of anesthesia.
Dr. Hannenberg has also pioneered the use of surgical emergency checklists at his hospital. After reviewing emergency checklists from different organizations, his hospital chose the manuals developed at Ariadne Labs and has been using them since 2014.
The emergency checklists guide surgical teams through the management of 12 surgical crises, ranging from anaphylaxis or cardiac arrest to fires and hypoxia. The physicians at Newton-Wellesley have created a 13th emergency checklist to address obstetrical hemorrhage. They utilized the Ariadne Labs checklist design and guidelines from the American College of Obstetrics and Gynecology.
"In the first six months, we had five or six obstetrical hemorrhages and people reached for the checklist," Dr. Hannenberg said. "I used it myself in an obstetrical hemorrhage and it took under 15 seconds for me to look at it and remind myself about warming the patient. I would have gotten to warming the patient, but the longer you don't, the worse it is. Opening the checklist and identifying that missing item and addressing it was a 40-second intervention and that makes a difference."