In our 5-Question series, we highlight the staff and faculty behind the compelling work at Ariadne Labs.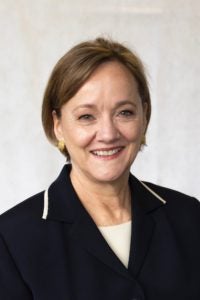 It has been a banner year for hospital expansion and mergers. "Health system megamergers continue to push deal activity to near-historic levels," says Modern Healthcare. Moreover, "the amount of revenue tied up in such deals was nearly four times higher in the second quarter of 2019 compared with the prior-year period." 
Some analysts say this activity increases health costs; others insist that it decreases costs. But Dr. Susan Haas of Ariadne Labs looks at the equation from an entirely different perspective.
Haas is the co-primary investigator for Ariadne Labs' Patient Safety for System Expansion, a project focused on reducing risks to patient safety when health systems expand or merge. Certainly, mergers, acquisitions, and affiliations offer the opportunity to improve patient care. But they can also lead to unintended patient risk if adequate planning and communication do not occur. 
Haas, an obstetrician-gynecologist, has extensive experience in the realm of health system affiliation. After residency and fellowship at Brigham and Women's Hospital (BWH), she advanced up the ranks of health system leadership at Harvard Community Health Plan (the forerunner of Atrius) and Boston Medical Center, and held roles at both regional and national levels with the American College of Obstetrics and Gynecologists (ACOG).
In 2008, she became chief of OB/GYN for Atrius Health, the large ambulatory-based, multi-specialty provider group. "It was a complicated system with a lot of moving parts. And I loved that." She retired in 2014. "I stayed retired for about a month and then realized, 'Oh, no. This isn't working.' " 
She learned about Ariadne when she came here for a lecture and heard about a grant from CRICO/Risk Management Foundation to examine the risks of system expansion.  "When Atul [Gawande, Ariadne Labs founder] said, 'I'm looking for someone to hire to run this systems expansion grant,' I wrote to him and said, 'We've never met, but I have a lot of personal experience solving exactly that problem and I'd like to help.' " She joined Ariadne in November 2015.  
Where are you from?
I grew up in Cuyahoga Falls, Ohio, and came to Massachusetts for college, then stayed for medical school at Harvard. I completed a residency in OB/GYN and fellowship in Reproductive Endocrinology and Infertility at BWH. I've continued to do both general OB/GYN and fertility practice throughout my career.
How did you get interested in the issue of systems expansion and patient safety?
It all leads back to Atrius. We incorporated Dedham Medical Associates OB department, and then the OB/GYN department of Harvard University Health Services. In each case, the culture, operations, and financing were very different from the core Atrius practice, and I had to figure out how to integrate those systems into the larger whole while maintaining what was unique and valuable in their settings.  Some years later, Atul was getting feedback from chiefs of surgery at Mass General, Children's, Beth Israel, and BWH that the hospitals were affiliating with other hospitals, but it was not always clear in advance what responsibility the Harvard service chiefs had for care in the new affiliates, or what the elements of risk might be. So Ariadne applied for and received a CRICO grant to address the issue. We then sought to understand the patient safety risks for Harvard institutions by interviewing clinicians and convening national and local system leaders to share experiences and insights.
What did you find out?  What are the risks to patient safety from expansions and mergers?
There are three types of significant safety risks. One is changes in patient population. For example, an obstetric service might close in one hospital, and those patients would go to another hospital, increasing the number of obstetric patients and maybe introducing new care needs that a hospital is not used to seeing. Or, patients might have different coexisting medical needs or language translation needs. 
The second is unfamiliar infrastructure. Many expansions try to consolidate  supply chains to reduce costs. However, imagine that you say, "OK, we're going to standardize our formulary, or standardize our defibrillators." That means a lot of doctors at one hospital will be looking at unfamiliar drugs that they have to prescribe, or working with unfamiliar equipment. Unfamiliarity leads to risk for patients.
The third has to do with physicians, what we call "traveling doctors." An industry survey of 82 health care institutions that have undergone expansion found that 87 percent required physicians to go to new sites. A more remote hospital may wish to have surgeons come out who can perform more complex operations or take care of sicker patients. There have always been those kinds of arrangements. But there are no standards for how a traveling doctor should be introduced to the new hospital's unique resources or team members. The "way things are done" – medical decision making, what services are not available nights and weekends, the presence or absence of trainees  – differ among hospitals. A traveling doctor doesn't know what the culture is – who can help, what happens if they make a mistake – in an unfamiliar hospital. Physicians can ill afford to be confused by the idiosyncrasies of call schedules of consulting services when they need immediate help. 
After completing the research, what did you do? 
We produced what we called a pre-affiliation discussion guide for physicians. This was a complex piece of work. It involved interviewing a lot of people and saying, "What do you wish you had known?" "What worked well–or not–for you?" We focused on surgery, emergency medicine, and obstetrics, because those are the high-risk specialties, and included some general content  that would apply to every physician. Recently we added a section for adult oncology. This was a new experience as the care is mostly ambulatory and involved very different types of medication risks than the inpatient specialties.
We also needed a way for physicians to stay involved in oversight of both the risks they've identified as well as any quality initiatives that were explicitly part of the reason for the affiliation. So we developed guidance for how to create and run a joint-clinical integration council. The model is very succinct – only two pages. 
We have also created a guide for individual surgeons who have been dispatched to an affiliate hospital to practice part time (the "traveling doctors" described above). Again, the guide includes the questions to ask and a how-to on using the questions.
These resources can all be downloaded for free on Ariadne's website and adapted to meet anyone's unique needs.
Where do you go next? Or are you thinking of retiring now?
No way! The research for each new problem opens our eyes to the next problem. Right now I'm working on two fronts. First, our work on the Professional Service Agreement guide has made clear the heterogeneity and in general opportunities for improvement in onboarding of physicians in almost all hospital settings. There are no standards from any professional organization or oversight/regulatory body. We are working to develop an understanding of the scope and impact of that problem. Our second interest is in the converse of system expansion: system consolidation resulting from the closure of rural hospitals. We believe those closest to the patients – front-line providers including EMS, families, doctors and nurses, and healthcare administrators – can best define what are the greatest risks to patients and what are the highest leverage solutions. That information could inform policy and funding to optimize the health of rural residents.
—Interview conducted by Stephanie Schorow