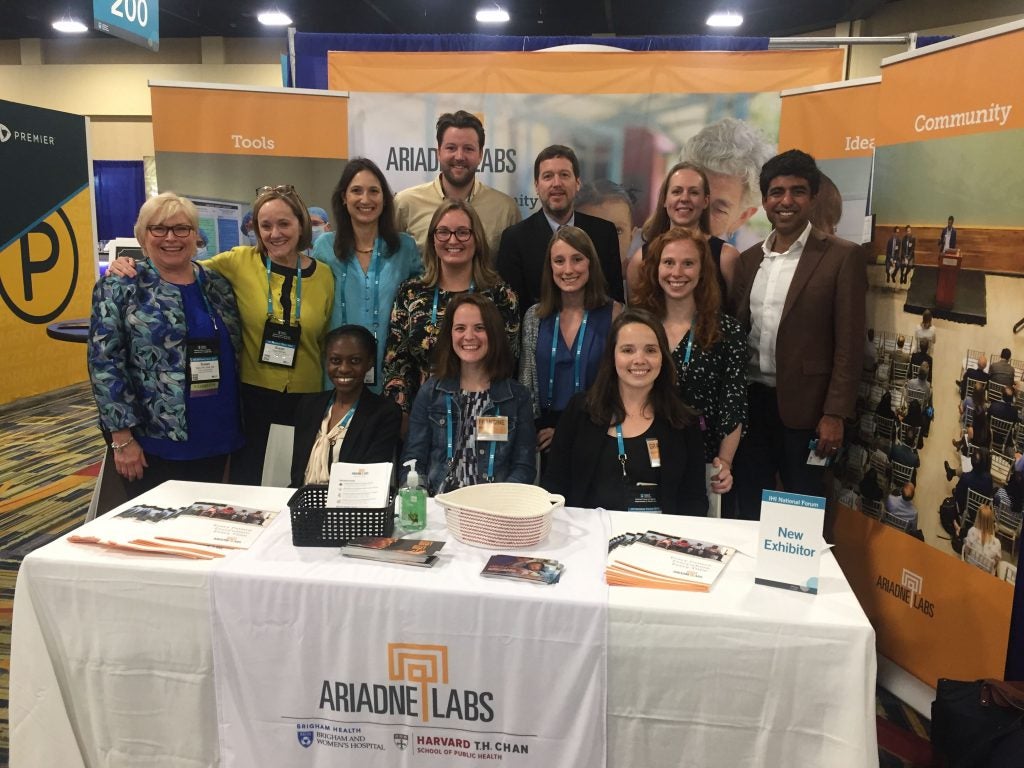 In early December, representatives from Ariadne Labs joined the thousands of health care professionals, industry leaders, and visionaries at the 2019 Institute for Healthcare Improvement National Forum on Quality Improvement in Health Care, held in Orlando, FL. Ariadne Labs hosted four presentations, a poster session, and staffed a booth in the convention hall, where we held two micro-talk sessions.
For many of Ariadne Labs' attendees, the conference was a reminder of the importance of the work we do to design, test, and spread solutions to some of health care's biggest challenges, and an opportunity to connect with and share ideas among other organizations and individuals working toward similar goals. 
"Hearing from nurses, physicians, and quality officers was a powerful reminder of the heroic efforts and blood, sweat, and tears that improving health care quality takes," says Grace Galvin, Assistant Director of Project Management for Ariadne Labs' Innovation Platform. "It was a reminder of how much work there is to do but also of how many people across all areas of health care are committed to making care better."
Throughout the conference, Ariadne Labs staff had a chance to speak with numerous organizations and share our tools and solutions with those working on the front lines of quality improvement. 
Natalie Henrich, PhD, MPH, Senior Scientist for Ariadne Labs' Science & Technology Platform, said, "It was really helpful to be in sessions with front line quality improvement people and learn more about their approach to implementation. It's also helpful to better understand the starting point of the people for whom we design our implementation approaches and tools."
Dr. Evan Benjamin, Ariadne Labs' Chief Medical Officer, and Meghan Long, project manager for the office of the CMO, presented a workshop on the labs' effort to scale our Communication, Apology and Resolution (CARe) work nationally. 
"There was a great response to the workshop, and we were approached by several institutions that would like to join a future collaborative to test our tools," Benjamin says. 
A presentation on "Health Systems are Merging: What Could Go Wrong," by Dr. Susan Haas, co-primary investigator for Ariadne Labs' Patient Safety for System Expansion, attracted a standing-room-only crowd, showing a broad commitment to making system expansion safe for patients in an industry where mergers are more common than ever. 
Henrich, who is also the faculty lead on one of Ariadne Labs' newest programs, the Atlas Initiative, presented a session on the initiative's newly developed context assessment tools for implementing at scale. "Participants tried out a tool, and we asked them to stand if they think using the tool for their last QI project would have made their project more successful — it was exciting that so many people stood up! We had a lot of people come up afterwards to find out about using our assessment tools in their upcoming implementations."
Workshops presented by Ariadne Labs' Delivery Decisions Initiative on process improvements to promote dignity in childbirth also drew a crowd.
The conference helped to highlight the unique role in quality improvement that Ariadne Labs' work seeks to fill. Dr. Benjamin and Sue Gullo, Director of Implementation, attended IHI's Scientific Symposium, which focuses on the intersection between improvement science and implementation science. Ariadne Labs sits squarely in the intersection between the two, Benjamin observed. Improvers are focused on getting results, while implementation scientists are trying to capture the evidence of best ways to improve, he says. 
Francine Maloney, Senior Manager for the Implementation Platform, saw similar enthusiasm for tools to bridge this gap among conference-goers stopping by the Ariadne Labs booth. "The thing that surprised people the most was that our tools are available for free on the website," she said. "People were so thankful and eager to access them and bring them back to their own institutions." 
"There is a growing need in the marketplace for new ideas, and our innovation center can help to move new ideas forward to build knowledge and then support their implementation," says Gullo. 
Perhaps most importantly, the conference allowed for a chance to meet and connect with others focused on making health care better for everyone. "Having the face-to-face interaction was very helpful in sharing ideas and developing a relationship," said Henrich. Benjamin noted, "We had the chance to meet with other potential partners," creating new opportunities for shared impact. 
Despite the magnitude of the issues that the conference addressed, "I felt more reassured than anything," Maloney said. "There were so many people working on the same problems we are."