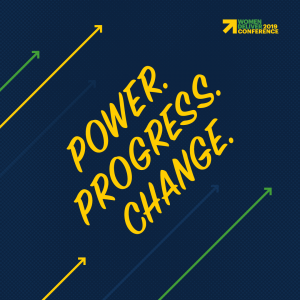 The Ariadne Labs BetterBirth team launched a landmark report with research findings, frontline insights, and global recommendations for improving maternal-newborn care at the 2019 Women Deliver Conference, the world's largest conference on gender equality and the health, rights, and well-being of girls and women.
The timing of the release of the 80-page BetterBirth Report at the Vancouver conference could not be more fitting; the conference is intended to serve as a catalyst for advocates working to achieve a more gender equal world, and the study aims to offer a path to high-quality, person-centered childbirth care around the globe.
The theme of the 2019 conference – Power, Progress, Change – resonates with the BetterBirth message that "change is possible." The results of the BetterBirth study in India, on which the report is based, demonstrate that it is possible to improve quality of care for women and newborns, even when resources are limited.
"I am thrilled to share the BetterBirth Report with the global health community and those addressing women's empowerment more broadly," says Katherine Semrau, director of the Ariadne's Better Birth Program, who will lead the team representing Ariadne Labs at the conference. "Our findings show us that to deliver respectful, high-quality, maternal, and neonatal care that drives the outcomes we all want for women and newborns, we should look at the unrecognized, under-measured factors that together create what we are calling 'systemness.' It is our hope that this holistic and integrated approach to care will finally close the gap on maternal and neonatal mortality."
Joining Semrau in Vancouver was BetterBirth co-principal investigator Dr. Vishwajeet Kumar of the Community Empowerment Lab in India; Ariadne Labs Chief Medical Officer Dr. Evan Benjamin; BetterBirth Assistant Director-Program Management Danielle Tuller; Dr. Rose Molina, an obstetrician/gynecologist and Ariadne associate faculty; and Director of Communications Deborah O'Neil. All were instrumental in researching and writing the BetterBirth Report.
More than 6,000 world leaders, influencers, advocates, academics, activists, and journalists attended Women Deliver to hear about new knowledge and world-class solutions and engage with a broad spectrum of voices. Special guests included Canadian Prime Minister Justin Trudeau, and his wife, Sophie Grégoire Trudeau; Tarana Burke, founder of the #metoo Movement; Barkha Dutt, Washington Post columnist and founding editor of We The Women; and Kobe Smith, youth director of International Planned Parenthood/Western Hemisphere Region. Conference sessions ranged from exploring issues on health, nutrition, education, and economic and political empowerment to human rights, good governance, and girls' and women's agency and equality.
On Wednesday, June 5, Ariadne Labs and the World Health Organization (WHO) hosted a 7 a.m. breakfast side session at the Vancouver Convention Centre to describe results and findings from the BetterBirth study – the first and only scientific study of this kind – and relevance to a global audience with regard to quality-of-care improvement at the time of delivery. Opening the event was the WHO's Dr. Allisyn Moran from the Department of Maternal, Newborn, Child, and Adolescent Health.
Moderating the event was Dr. Vishwajeet Kumar, CEO and founder of the Community Empowerment Lab. Panelists outlined successful experiences in improving the quality of maternal and newborn health, including areas of community, birth attendants, and facilities. Panelists included Dr. Dilys Walker of the University of California, San Francisco and president of PRONTO International; Dr. Aparajita Gogoi, director of the Centre for Catalyzing Change and national coordinator of The White Ribbon Alliance India; and Dr. Koki Agarwal, director of the Maternal and Child Survival Program at Jhpiego.
The BetterBirth study, which took place from 2014 to 2017 in 120 frontline facilities in Uttar Pradesh, India, focused on an eight-month, peer-coaching-based program to implement the WHO Safe Childbirth Checklist. The primary outcomes were published in 2017 in the New England Journal of Medicine. During 2018 the BetterBirth team analyzed 204 million data points from more than 157,000 women participants and their newborns. Partners in the study included the Governments of India and Uttar Pradesh, Population Services International, Community Empowerment Lab, Jawaharlal Nehru Medical College, and the World Health Organization.
A key theme from the report is the need to apply "systemness" or systems thinking to improving maternal-newborn care. "Systemness" calls for enhancing connections among various health care building blocks, such as supply chains, workforce, and finances so the systems deliver seamless, integrated, patient-centered care. The BetterBirth Study uncovered troubling fault lines in critical connections within the health system.
"The BetterBirth Report presents an enormous opportunity to rethink maternal/newborn quality of care through the lens of systems thinking," says Dr. Evan Benjamin, chief medical officer at Ariadne Labs. "We are are excited to have this conversation with maternal health leaders from around the world at Women Deliver."
During the conference, the Ariadne Labs team staffed a booth in the convention center and host a series of micro talks, or free-flowing conversations led by program scientists, about critical issues in maternal-newborn health. The micro talks included:
Centering Care & Carrot Cake: "Integrating Person-Centered Care for Women & Newborns," Dr. Rose Molina, Associate Faculty, Ariadne Labs, Tuesday, June 4, 12:30 p.m.

Systemness & Snacks: "Applying Systems Thinking to Maternal, Newborn and Child Health," Dr. Evan Benjamin, Chief Medical Officer, Ariadne Labs, Tuesday, June 4, 4 p.m.

Quality of Care & Cookies: "Prioritizing Quality of Care," Dr. Somesh Kumar, Senior Director of New Initiatives and Innovations, Jhpiego. Wednesday, June 5, 12:30 p.m.

Data & Delectables: "Harnessing Data," Dr. Katherine Semrau, Director, BetterBirth Program, Ariadne Labs, Thursday, June 6, 12:30 p.m.
Additionally, Ariadne team members participated in other events, including:
June 3 panel, "Lessons Learned in Translating Research to Implementation," full day session led by UCSF; Katherine Semrau will be a panelist.

June 4 EdTech Talk

June 5 panel, "Re-thinking Women's Health: Gender-Based Innovative Science for Integrated Health Systems," moderated by Katherine Semrau

June 5 panel, "Listen to Women: Thriving Before, During, and After Pregnancy"
For more information on Women Deliver 2019, visit the conference site.
-Stephanie Schorow