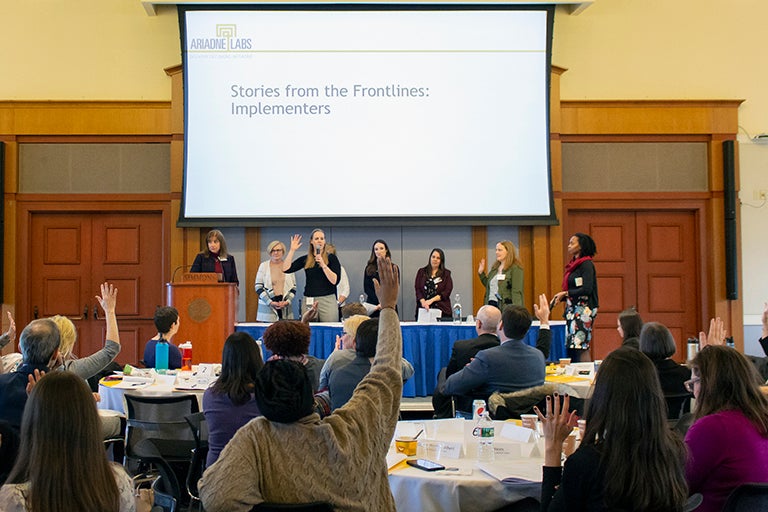 At dawn on the fifth day after Christine Poland was admitted to the hospital, a doctor and team of nurses and midwives approached her bed. Having been up all night from yet another labor induction treatment, Poland was emotionally and physically drained. The doctor, she says, told her the latest treatment had failed and to "just agree to a C-section, and your baby will be delivered by 10 a.m. You're 40 years old and have a precious baby, so don't take any risks."
The comment angered Poland. The experience of women feeling disempowered or even disrespected during childbirth is increasingly surfacing as experts consider what is driving U.S. maternal mortality rates up. She shared her story during a two-day convening led by Ariadne Labs in Boston in January. More than 50 Ariadne staff and hand-selected experts in obstetrics, nursing, midwifery, patient advocacy, and other fields met to evaluate Ariadne strategies and hear from four hospital implementation teams piloting these strategies. Stories from Poland and others underscored some of the challenges mothers are experiencing during childbirth.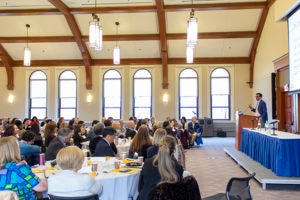 "I thought [the doctor's comment] was extremely patronizing and put a lot of pressure on me to make a decision when I was mentally worn down," says Poland.
Possibly noticing Poland's frustration, another clinician stepped in to help support the team–not with medicine, but with better communication. She told Poland that she was going to list all of the delivery options, not just a C-section, on a nearby whiteboard. Developed by Ariadne Labs, the labor and delivery planning board is a visual, shared reference for the patient, family, and care team members. A tool developed in Ariadne's Team Birth Project, the board outlines members of the team in the room; the mother's preferences during labor and birth; care plans for the mother, baby, and labor; and expectations on the next check-in. The intent is to foster teamwork and communication while empowering the patient during the birthing process.
This simple tool had a profound effect on Poland. The board "immediately gave me something to focus on, made me feel like I had my voice and semblance of control over what was happening," she says. This sense of empowerment extended into her next delivery attempt. "I can do this," she told herself.
As both Poland's fever and baby's heart rate elevated, a midwife gently suggested, "I think this is the time we may want to consider a C-section." Her daughter, Nova, was born following this procedure at Poland's request. This time, Poland was not being told how to deliver her baby, but choosing with knowledge and understanding. That empowerment made all the difference in her experience.
Improving birth experiences for Poland and all mothers is a key focus of the Team Birth Project. The centerpiece of the Delivery Decisions Initiative at Ariadne Labs, this project aims to improve both safety and communication for people in labor and their babies. Tools, training, and implementation strategies developed by Ariadne are designed to empower women and their families during childbirth while reducing overtreatment when possible; C-sections, for example, have increased 500 percent in the U.S. since the 1970s.
South Shore Hospital in Massachusetts and Saint Francis Hospital in Tulsa, Oklahoma, began implementing these strategies last year. In January, Overlake Medical Center in Bellevue, Washington, and nearby EvergreenHealth Medical Center in Kirkland, Washington, officially launched a partnership with Ariadne. With coaching and support from Ariadne, the teams will assess patient and clinician experience as well as potential impacts on vaginal deliveries. The latter two hospitals were selected partly due to their high C-section rates compared to other Washington hospitals.
"We want women to know why decisions during their labor are being made and more than that, have a meaningful and informed voice in making those decisions," says Dr. Angela Chien, an EvergreenHealth obstetrician-gynecologist who attended the convening. "Women need to not only know their birth story, but also help write it."
How to better affirm women's dignity was another hot topic at the convening. During breakout sessions, attendees tackled various questions: What does dignity look in the childbirth setting? How does disagreement among the care team challenge and person in labor challenge the concept of dignity?
Attendees also analyzed Ariadne's Team Birth tools, including the labor and delivery planning board, an admissions aid (confirms if admission is actually necessary), and a delivery decision aid to guide team discussions and decisions around the necessity of an operative delivery. The feedback will further improve Ariadne's Team Birth strategies and tools.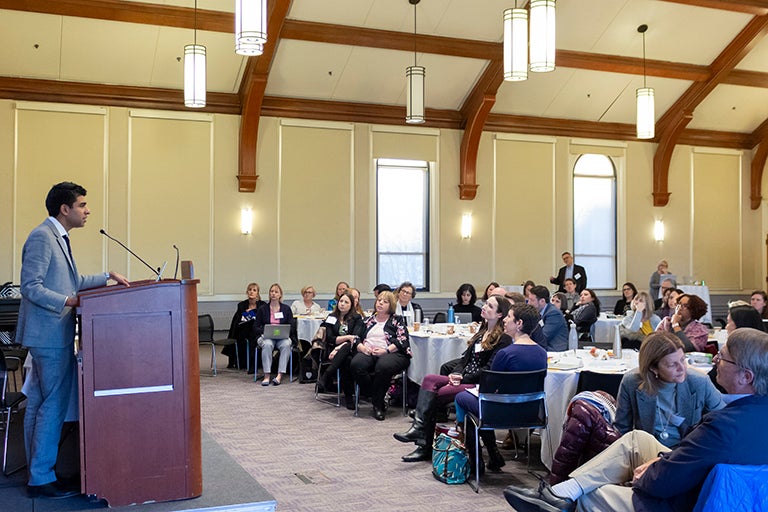 "By the end of this year, our hope is to have a formulation of the solution that everyone in this room feels content with, one we can own together," Neel Shah, director of Ariadne's Delivery Decisions Initiative, told attendees. "I'd like to put something out into the world that we are all endorsing."
—Fred Durso, Jr.