BOSTON (October 2, 2017) — Ariadne Labs announced today that Dr. Evan Benjamin, a national leader in quality improvement and patient safety, will become its new chief medical officer, leading the organization's clinical and scientific effort to drive health systems innovation around the world.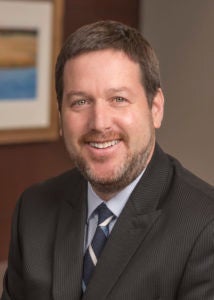 Benjamin brings 30 years of experience in clinical care, quality improvement, and population health. He comes to Ariadne Labs from Baystate Health System—the third largest system in Massachusetts—where he was the senior vice president for quality and population health. In this role, he led the development and implementation of a system-wide approach to patient care and population health that has consistently made Baystate one of the country's highest performing teaching hospitals for quality, safety, and accountable care. He also established Baystate's Center for Quality of Care Research and cofounded TechSpring, the Health IT Innovation Center, to enable startups driving change in health-care delivery.
Nationally recognized for his work in outcomes management and quality-of-care improvement, he has published more than 50 research studies in major journals, including the New England Journal of Medicine and the Journal of the American Medical Association. A professor in the Department of Medicine at Tufts University, he has contributed to five books regarding health-care delivery.
"With Evan's arrival, Ariadne gains a national leader in quality improvement and implementation science and a seasoned health-care executive," said Dr. Atul Gawande, founder and executive director of Ariadne Labs. "This year, we mark five years of enormous growth and achievement at Ariadne Labs. I feel very confident that with Evan as our CMO, we have added a force multiplier, and I anticipate the next five years to be even brighter."
On Oct. 16, Benjamin will assume the role held by founding chief medical officer, Dr. William Berry, who has taken on a senior advisory role, while remaining interim director of Ariadne's Implementation Platform and the leader of the Safe Surgery Program.
Ariadne Labs, a joint center of Brigham and Women's Hospital and the Harvard T.H. Chan School of Public Health, designs, tests and spreads scalable solutions to improve health-care delivery at the most critical moments in people's lives. The tools and programs Ariadne scientists have developed for childbirth, surgery, and serious illness are demonstrating worldwide impact.
As the Chief Medical Officer and member of the executive team, Benjamin will provide oversight, guidance, and support to Ariadne Labs research faculty, ensuring that Ariadne's findings are supported by rigorous evidence and result in clinically meaningful change. In partnership with the Chief Project Officer, he is responsible for ensuring that Ariadne's projects, initiatives, and programs successfully meet their scientific objectives as they advance from concept to solution to scale. Benjamin will mentor faculty and research scientists and work with external departments, organizations, and individuals to enhance faculty research and thinking about programmatic issues. In addition, he will work in close collaboration with Dr. Gawande to develop and expand Ariadne's external relationships, strategic partnerships, and community, and to raise the Ariadne Labs profile as a global leader in health systems innovation.
"I am honored and privileged to join the outstanding team at Ariadne Labs," said Benjamin. "Healthcare is at a pivotal point, and the need for simple and scalable improvements has never been greater."
A Massachusetts native, Benjamin holds a BA from Williams College, an MD from Case Western Reserve University School of Medicine, and an MS in Health Policy from Dartmouth College. He did his post-graduate education in internal medicine at Yale New Haven Hospital, and he also served as an epidemiologist in the US Public Health Service/Indian Health Service early in his career.