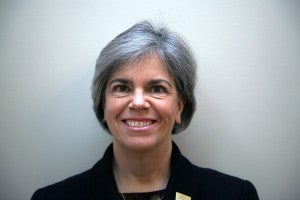 More than 35 years ago, Dr. Susan Block began making house calls to very seriously ill patients struggling with physical pain, fear and desperation, and, sometimes, paralyzing family distress. At the time, the problems in the care of patients at the end of life were unrecognized, and the specialty of palliative medicine was unknown in the United States. But as a medical resident in the late 1970s, Dr. Block was deeply disturbed by the needless suffering she saw among patients at the end of life.
She trained in internal medicine and psychiatry so she could provide both physical and psycho-emotional care. She devoted time to learning about the psychological struggles of cancer patients. And through small, just-emerging hospice programs in Boston and later, new palliative medicine programs she helped establish at Brigham and Women's Hospital and Dana-Farber Cancer Institute in Boston, she has cared for thousands of seriously ill patients until the end of life, discovering along the way that patients most want their doctors to listen and honor their values, wishes and goals. That insight has become the foundation of the Serious Illness Care Program she established at Ariadne Labs.
"What I have loved about this work over the years is when you are taking care of people who are dying or living with a serious illness and you are supporting their families, you are witnessing love and loss at an incredibly distilled and essential level, and are close to some of the most powerful emotions that humans can ever experience," she said. "It has been a great privilege to be close to these deeply human experiences."
On March 11, Dr. Block's nearly 40 years of contributions to the development, establishment and advancement of hospice and palliative medicine was honored with the Lifetime Achievement Award at the American Academy of Hospice and Palliative Medicine Annual Assembly, among the highest honors in the field. The Chicago Assembly was the largest in AAHPM's history with more than 3,000 clinicians in attendance. The Harvard Medical School professor, Dana-Farber Cancer Institute physician and director of the Serious Illness Care Program at Ariadne Labs joins a select list of palliative care pioneers in receiving this award, among them Cicely Saunders, founder of the first modern hospice and Dr. Balfour Mount, who brought palliative care to North America.
"Dr. Block's illustrious career has generated an outstanding body of work that has helped shape and advance hospice and palliative medicine," said AAHPM President Christine Ritchie, MD MSPH FACP FAAHPM. "She has touched the lives of so many. We are pleased to honor her with the AAHPM Lifetime Achievement Award."
Dr. Block's career spans the remarkable birth and evolution of palliative medicine, a specialty recognized by the American Board of Medical Specialties only in 2006. Her role has been not only to improve care for seriously ill patients through her clinical practice, but also to train and mentor thousands of other doctors on how to better serve these patients. She spent 10 years with the Open Society Institute's Project on Death in America, founded by billionaire George Soros to transform the experience of dying. She served as director of its Faculty Scholars Program, training the country's earliest cohorts of palliative medicine leaders.
Her partner in her life's work has been her husband of 34 years, the late Dr. J. Andrew Billings, the renowned head of palliative medicine at Mass General Hospital. Together, they established the Harvard Medical School Center for Palliative Care. Dr. Billings, who was diagnosed with lymphoma in 2013, passed away in September 2015.
"So much of how I think about these issues was influenced by conversations with Andy in the course of my career," she said. "Learning together how to take care of patients with serious illness, and being able to share so many professional interests was one of the deepest joys of my life."
After contributing to the creation of the field of palliative care, caring for patients and establishing education programs for doctors at all levels, there was another significant advancement to come in palliative medicine. That is, systematizing and scaling patient-centered, serious illness conversations within large health systems to assure that patients receive the care they want as their illness progresses. Dr. Block is leading that movement as well, and it began with a conversation about conversations.
In 2010, a Brigham surgical specialist and fellow Harvard professor showed up at Dr. Block's doorstep. Dr. Atul Gawande told her that his conversations with very sick patients did not go well—and that he often saw this was the case with other doctors, as well. He feared that he might be doing more harm than good for patients at the end of life. Like most doctors, Dr. Gawande had no training in palliative medicine.
He asked her: How could I do better?
So Dr. Block began sharing what palliative care specialists had learned worked best. First off, do more listening than talking. Understand that seriously ill people have other priorities besides living longer. To find out what those priorities are, ask a handful of key questions around their understanding of their illness, what they are willing to trade for more time, their fears, goals and what gives them strength. Assure patients you are in it together.
"That conversation changed my life," Dr. Gawande said. "She'd told me precisely what I could do differently next time, and it proved transformative—not just for me, but many others."
Dr. Gawande tried Dr. Block's approach with his patients. He found it worked. Over and over again. He felt better able to provide the care patients wanted and his patients responded positively to the guided conversation about their goals and values. He wrote about what he was learning in an article for The New Yorker magazine that won a National Magazine Award and then a book, Being Mortal, that became a global bestseller and Frontline documentary film.
Together, the two physicians also collaborated to distill this patient-centered, compassionate approach to serious illness care into a holistic program. The Ariadne Labs Serious Illness Care Program advocates having better conversations about goals and values with more patients, earlier in the course of illness so patients receive the care they want. It takes a systems approach to improving care for patients at the end of life, with an 8-question Conversation Guide, clinician training and processes to integrate the conversations and its outcomes of into health care systems.
Block, Gawande and their team are now testing the approach in a randomized control trial with 90 clinicians and 450 cancer patients and their families at the Dana-Farber Cancer Institute. Results reported this past fall show that the program does, in fact, produce more, earlier, and better conversations—with significantly lower rates of anxiety and depression for patients.
Ariadne Labs is now developing partnerships to scale Serious Illness Care across the country and internationally.
For Dr. Block Serious Illness Care represents the culmination of her life's work and the legacy of care she built with her husband.
"The Serious Illness Care Program distills expertise and learning from doing this thousand of times and my own personal experience of losing my husband," she said. "It's designed to make it possible for people who don't have that experience. I don't think I could have done this early in my career. This is a capstone moment and it feels very meaningful. "