Ariadne Labs' Serious Illness Care Program and its key component, the Serious Illness Conversation Guide, have been shown to decrease emotional distress, depression, and uncertainty about treatment options in patients facing a life-threatening illness. Studies have also shown that implementation of the program leads to more, better, and earlier conversations, and more easily locatable documentation of the conversations, helping to ensure that more patients' wishes are known and respected. Now, a new study indicates that the program may also contribute to lower health care costs.
Using Medicare claims data, the study, "A Systematic Intervention to Improve Serious Illness Communication in Primary Care: Effect on Expenses at the End of Life," published in Healthcare, compared the medical expenses of seriously ill patients who had a Serious Illness Conversation to those of patients who did not during the last year of their lives. Expenses billed to Medicare were lower during the last six and three months of life for those who had conversations. The savings during the last three months averaged about $4,000 per patient for that period.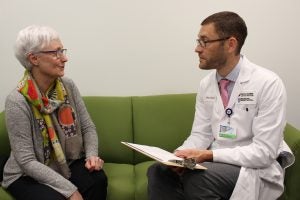 "Our Serious Illness Care Program is designed to encourage earlier and better conversations about a patient's goals and wishes," said Joshua R. Lakin, MD, the primary author of the study. "What we found was that it also seems to have saved costs for patients who had conversations."
Lakin, who plays a key role in Ariadne Labs' Serious Illness Care Program – which provides clinician training, coaching, and tools to support implementation of the Serious Illness Conversation Guide – cautions that the study was derived from a small, non-randomized sample, but that results provide impetus for further study.
The study was based on the evaluation of 124 people who died between January 2014 and September 2016. These individuals were patients enrolled in a high-risk care management program at one of 14 primary care clinics affiliated with Brigham and Women's Hospital in Boston, where the Serious Illness Care Program was being implemented.
Lakin stressed that while lower health care costs are not the goal of the program, it may be an added benefit of gaining a strong understanding of patient's preferences to ensure care aligns with their goals and values. "From a clinician's standpoint, the cost shouldn't be the driving factor in care," Lakin said. "However, we shouldn't spend money that people don't want to spend, especially if it's not going to help them out and if it doesn't match with what matters most to them."
Data in this study were derived from patients with complex medical histories who had been identified as candidates for Serious Illness Conversations. Researchers compared total medical costs in four time frames between patients from this group who had gone on to have a documented Serious Illness Conversation and those who did not have the conversation. Cost analysis was based on total medical expenses, using data on medical claims submitted to Medicare. Measures were taken to protect patient privacy and confidentiality.
The study found that both sets of patients had similar monthly total medical expenses seven to twelve months before death: $4,006 for the conversation group versus $4,476 for those who did not have conversations. More dramatic, statistically significant differences were seen in the last six and three months of life:
Six months: those with conversations had expenses of $7,345 versus $8,867 for those who did not have conversation, a $1,522 monthly difference.
Three months: $8,994 versus $10,504, a $1,510 monthly difference.
"We theorized that lower medical expenses may result from early serious illness communication in primary care by helping to alleviate a mismatch between patient preferences for less intensive medical care and what clinicians tend to assume as a desire for more intensive treatment," the study states. In general, health care expenses generally go up as a person reaches the end of life.
"Of course, we want you to seek medical care as you get sicker. But there will be some patients – not all but some – who say, 'You know what? Based on my goals and values, I'm going to use less medical care,' " Lakin said. "Our default as a medical system is to do things – and do and do. For some people that's exactly right. Our studies suggest most people don't want full-blown medical care to the last day." Having serious illness conversations helps ensure that the patient is receiving the level of care that they're most comfortable with, Lakin said.
Lakin also cautions that the analysis was limited to Medicare claims and does not include medical expenses paid through supplemental insurance.
"We want patient-driven reductions in costs to be based on patient values, not system reductions based on revenue," said Justin Sanders, MD, MSc, associate faculty with the Serious Illness Care Program at Ariadne Labs. "What is important is that we proactively identify patients who are at high risk of not doing well from an intensive care stay and give them options as in 'We have means of taking care of you other than sending you to the hospital and putting you on a ventilator.'"
While the bulk of medical costs may be borne by medical insurance such as Medicare, seriously ill patients often have large expenses that are not covered, Sanders said. Patients and families are interested in saving costs, he said. "They just don't want our attempts to reduce costs to negatively affect the care that they receive."
The Serious Illness Care Program was not designed or implemented to generate cost savings but rather to drive more, earlier, and better conversations about patients' values and goals. Studies such as this one, however, may offer even more incentive for policy makers and health administrators to consider more widely implementing Serious Illness Conversation interventions. "It's the right policy to change communication; it may help to know that the program may fund itself over time, which is a double win," Lakin said.