March 26, 2021
By Stephanie Schorow for the Global Mass Vaccination Site Collaborative
As the vaccination efforts were gaining steam around the world, the collaborative held its kickoff meeting to begin the weekly effort to share information, best practices, and stories from the vaccination frontlines.
The March 26 meeting featured a presentation by Rachel Franklin, MBA, AEMT, of the Metro Public Health Department in Nashville, Tenn., who described the mass vaccination effort at Nissan Stadium in Nashville. In one day on March 20, over 10,000 people were vaccinated — an impressive effort that also provided key insights into how to stage such large events.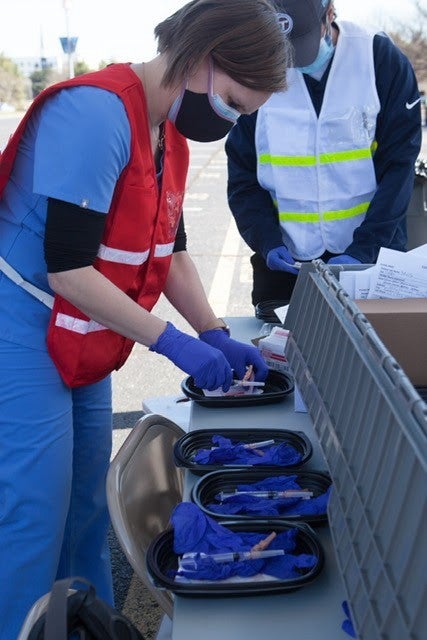 Organizers drew on previous plans, infrastructure, and funds for other kinds of medical emergencies, underscoring the message of always being prepared. Tennessee got 100,000 doses of the Johnson & Johnson vaccine and asked local health organizations to administer quickly. "We had 18 days to do this," Franklin explained.
While organizers had a ready site at the football stadium, nothing had ever been done at such a large scale, Franklin said. She described the logistics — creating 20 lanes of traffic, putting together vaccine kits on site, creating the registration process, and using green cards indicating a person was good to go for a vaccine. The team had to be efficient. "It's hard for nurses not to be conversational but we had to keep it moving," Franklin said. When a central location used for putting together vaccine kits could not keep up with flow, the team pivoted to create a way to put together kits at each lane. They used pre-printed stickers so that reduced time on writing.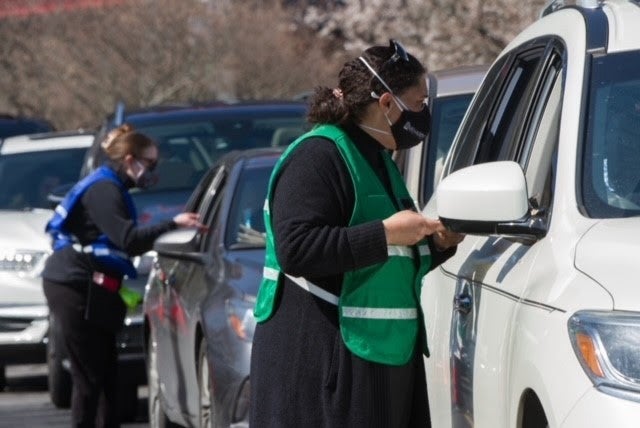 The team also set aside a number of appointments specifically for BIPOC and refugee populations and utilized radio channels on mobile devices for Spanish translations. "Traffic control was a very important part," said Franklin. Luckily, 20 National Guard volunteers were on hand for traffic control.
Franklin was asked this question: "Given the potential for high winds and/or storms forcing a cancellation and rescheduling of thousands of appointments, is it worth it to pursue outdoor drive through vaccination in markets with less reliable weather patterns? Are they able to achieve that many more doses per day than mass vaccination facilities functioning indoors or is the justification based on greater customer service?"
Franklin said that while they set up a make-up date for severe weather, they decided that even if it was a rainy, cold, "crappy" day, the event would remain open for appointments. "We had plenty of ponchos, and we could get umbrellas quickly," she said.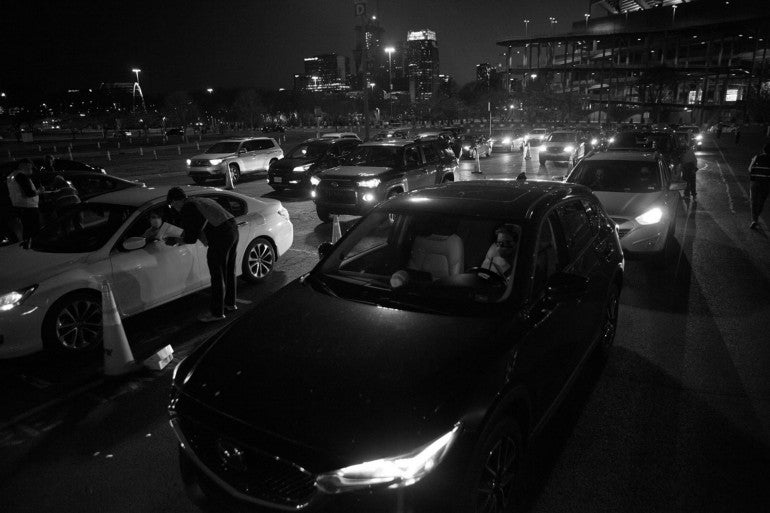 Sara White from UCHealth, who represented a mass vaccination site at Coors Field in Denver, shared that her team ended up moving the majority of patients inside when temperatures reached -10 degrees Fahrenheit, as many participants were 70 or older with mobility issues. Many needed help getting into the clinic.
Key Takeaways
Have emergency plans in place to ensure that if something happens, health officials can move quickly.
Keep an eye on traffic flow in mass sites and pivot as needed to avoid bottlenecks.
Be prepared to deal with weather — either to reschedule or power through.
The Global Mass Vaccination Site Collaborative was launched as a way for stakeholders directing vaccination campaigns around the world to come together and learn from each other's efforts. This blog series was created to record and share the learning and insights gained from this collaboration. Read blogs from our previous meetings here.