The Checklist should be just one part of an overall strategy to achieve high-quality maternal and neonatal care
Since launching in 2015, the WHO Safe Childbirth Checklist has been regarded as an important tool in closing safety gaps in maternal and neonatal care. But, as a recent commentary co-authored by Ariadne Labs' BetterBirth Program, Jhpiego, and the WHO highlights, the Checklist alone is not all that is needed to drive improvements in safety and quality. 
The commentary, published in The Lancet Global Health, notes that the Checklist is most effective when implemented as part of a larger quality improvement initiative and calls for more research to understand which implementation practices are most effective.
The WHO Safe Childbirth Checklist was published as a patient safety tool to improve facility-based childbirth care by boosting adherence to essential practices around the major causes of maternal and newborn morbidity and mortality. "It was designed to ensure that every expecting person receives the same high quality care, no matter where they give birth," said Rose L. Molina, MD, MPH, Ariadne Labs faculty, and lead author of the commentary.
"Adherence to practices is an important first step in terms of closing safety gaps," said Molina. "We need to be doing the right evidence-based practices for every person, every time. However, we also recognize that that is not necessarily enough to achieve the highest level of health for all people giving birth and their newborns."
Molina describes that the next phase of research should aim to answer the questions, "What else do we need to change or adapt in the checklist? What other interventions does it need to be paired with and how can it be sustainably used to really achieve impact on all of the outcomes that we're hoping to improve?"
A corresponding publication by the BetterBirth team in the Journal of Global Health Reports outlines what successful implementation can look like, drawing on case studies from India and Rwanda that show how the Checklist was implemented.
The paper identified key promising practices for Checklist implementation through working with partners in Tamil Nadu, India, and in the Masaka District, Rwanda. These practices include using the messaging service WhatsApp, a digital messaging service, to troubleshoot challenges and provide accountability in monitoring and evaluation processes; continuous coaching; and making the Checklist part of patient medical record-keeping to ease paperwork burdens.
Promising practices for implementing the WHO Safe Childbirth Checklist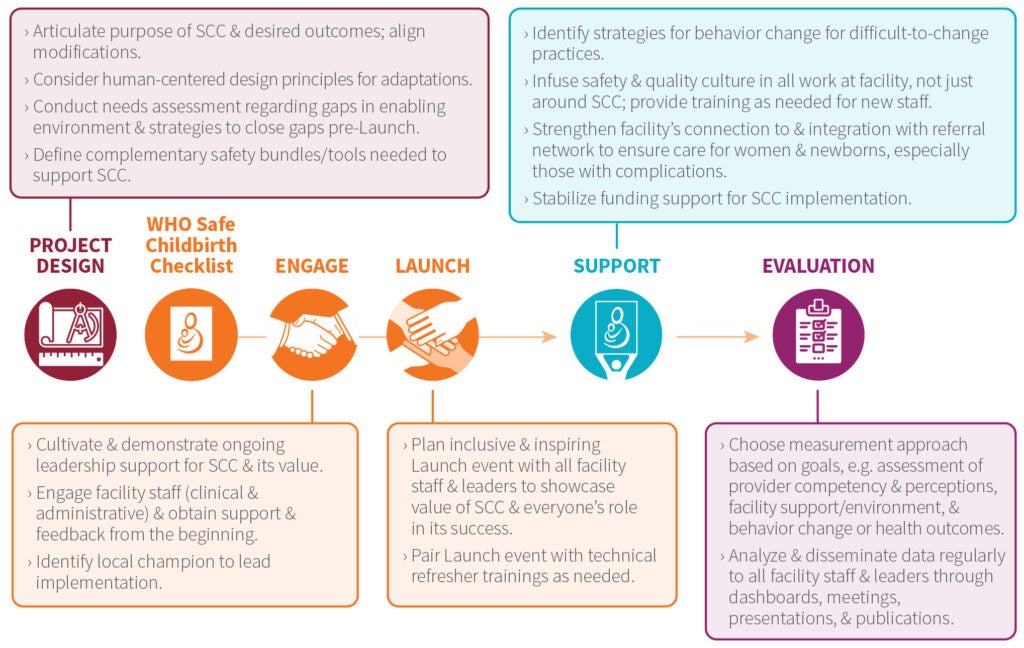 "Given the differences in the contexts in which the checklist was implemented, we were still able to uncover promising practices – or strategies for implementation that really resonated in both of those settings," Molina said. "We put those forward in our paper as suggestions or recommendations for a global audience that may be considering implementing the checklist in other contexts, recognizing that these were concepts that came out of discussions with implementers on the ground in Rwanda and India."
Katherine Semrau, PhD, MPH, Director of the BetterBirth Program, said, "Globally we have learned so much about the WHO Safe Childbirth Checklist through rigorous research studies in India, Kenya, Uganda, Sri Lanka, and Italy; now we have the chance to learn about real-world implementation and all the strategies and approaches that make the Checklist, alongside other quality improvement interventions, work."
In looking ahead to the next phase of Checklist implementation, identifying examples of successful implementation from around the world can further the understanding of how best to implement the Checklist to ensure access to safe, high quality childbirth care for every person, everywhere.
Ariadne Labs' BetterBirth Community of Practice offers an opportunity for anyone interested in implementing the WHO Safe Childbirth Checklist to learn from the experiences of their peers, access webinars and resources, and identify best practices. Sign up to join the Community of Practice on Ariadne Labs' Aria platform here.