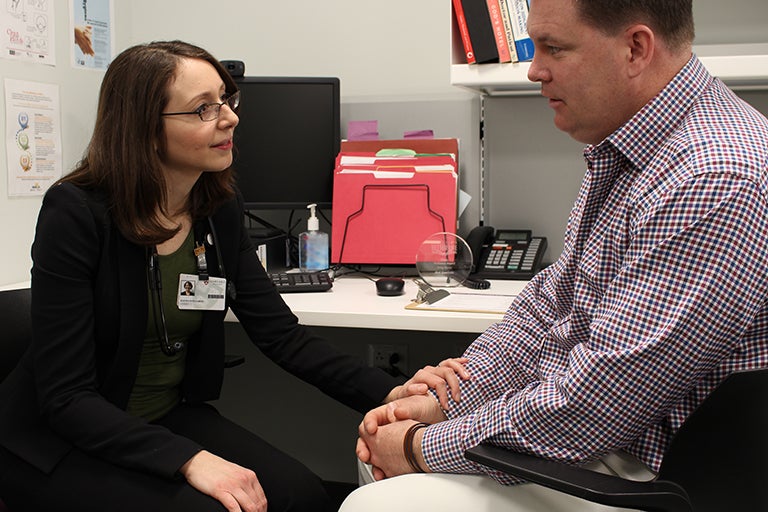 Dr. Joanna Paladino's commitment to palliative care runs deep. As a palliative care physician at the Dana-Farber Cancer Institute and Brigham and Women's Hospital, she has initiated meaningful conversations with patients facing a serious illness about what matters most to them. She's coached other clinicians on doing the same by using the Serious Illness Conversation Guide, an Ariadne Labs tool that helps clinicians unveil a patient's most important wishes and values. As director of implementation for Ariadne's Serious Illness Care Program, she's worked with teams at health systems across the U.S. to bolster these important conversations.
"High-quality conversations about patients' values and goals have the potential to transform their experience of care," says Paladino. "What we're learning … is that some of these health systems are successful at improving these conversations on the frontlines and others face significant challenges."
The Cambia Health Foundation, which aims to transform the way people experience health care, recently recognized Paladino's leadership in improving palliative care. She was named one of Cambia's 12 new Sojourns Scholars, each receiving a two-year, $180,000 grant to conduct innovative and impactful projects tied to this field. This program also identifies, cultivates, and advances the next generation of palliative care leaders.
Paladino will be developing a survey aimed at measuring institutional culture toward palliative and end-of-life care in health systems. This culture, she says, can vary among clinics and organizations and is currently not measured. "My hypothesis is that health care culture can support or impede improvement efforts, especially around communication in serious illness," she says. "By understanding a health care professional's attitudes, beliefs, and perceptions toward serious illness communication and end-of-life care, we can design better strategies for lasting improvements."
The project's first step, says Paladino, is to interview organizational leaders, clinicians, patients, caregivers, and staff at various health care systems to help shape the survey, which will then be distributed and evaluated later this year.   
Paladino joins five other Ariadne staff members who have been named Sojourns Scholars; they include Erik Fromme, Rachelle Bernacki, Zara Cooper, Justin Sanders, and Josh Lakin. Paladino also has the ability to learn from and collaborate with this year's grant recipients. "If we're going to provide excellent serious illness care to all patients, we need each other to be effective," she says. "What I'm most excited about is being a part of a community that's making major contributions toward achieving this vision."
–Fred Durso, Jr.
This year's scholars include health care professionals from the Johns Hopkins University School of Nursing, the Dana Farber Cancer Institute, and the Children's National Health System. For a complete list of grant recipients, visit the Cambia Health Foundation site.   
About Cambia Health Foundation
Cambia Health Foundation is the corporate foundation of Cambia Health Solutions, a total health solutions company dedicated to making health care more person-focused and economically sustainable. Founded in 2007, the foundation has funded more than $60 million in grants to advance patient- and family-centered care for all. Cambia Health Foundation strategically invests in philanthropy to change the way people experience health care from birth to natural completion of life. Learn more at www.cambiahealthfoundation.org, and follow them on Twitter/:  @CambiaHealthFdn