The Ariadne Labs Serious Illness Program is featured prominently in an April 29 cover story in The Economist, among the world's most influential news magazines.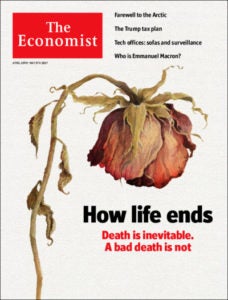 The cover package, How life ends, includes a news story, A better way to care for the dying, with interviews with Serious Illness Care Program Director Dr. Susan Block, Ariadne Labs Executive Director Dr. Atul Gawande and Dr. Robert Fine of Baylor Scott & White Health, an Ariadne Labs innovation partner. The story underscores the value of palliative medicine in encouraging clinicians to have conversations with their seriously ill patients. Block notes, "every doctor needs to be an expert in communicating." The article goes on to highlight early results from the Ariadne Labs trial at the Dana-Farber Cancer Institute that demonstrate the Serious Illness Care Program and the Serious Illness Conversation Guide encourage more, better and earlier conversations and lower patient anxiety.
The publication coincides with the April 2017 release of an updated Serious Illness Conversation Guide. The backbone of the Serious Illness Care Program, the Conversation Guide was written by Dr. Susan Block and a team of palliative care experts as a tool to facilitate conversations between clinicians and seriously ill patients about patient values and goals. Through these conversations, care can be aligned with what matters most to patients. The new Conversation Guide contains updated patient-centered language related to set-up, prognosis, and closing the conversation.
As part of their coverage, The Economist partnered with the Kaiser Family Foundation to survey people in four counties about end-of-life. The findings, reported in a separate story, reflect a core tenet of the Serious Illness Care program: Seriously ill people have goals and wishes beyond just living longer.
In an accompanying editorial, How to Have a Better Death, the magazine calls for clinicians to do better at having difficult conversations with seriously ill patients, suggesting, "A good start would be the wider use of the "Serious Illness Conversation Guide." Also, Economist Radio features Gawande reflecting on his bestselling book, Being Mortal: Medicine and What Matters in the End, in a 30-minute podcast, The Economist asks: How can we improve the way we die?