Fifteen U.S. health systems are collaborating with Ariadne Labs to initiate more, better, and earlier conversations with seriously ill patients as part of an innovative collaborative that is reaching diverse populations from coast to coast.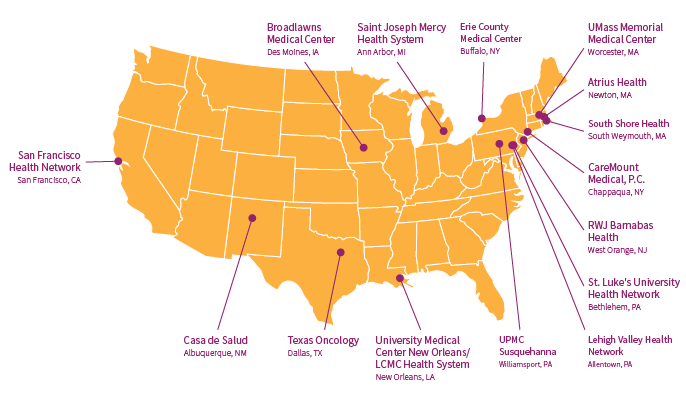 The Serious Illness Implementation Collaborative – which offers trainings offered in partnership with Ariadne Labs, the Center to Advance Palliative Care, and VitalTalk – is a pioneering effort centered on using the Serious Illness Conversation Guide and other components of the Serious Illness Conversation Program. The impetus of the collaborative is to ensure more health systems have the tools and expertise to initiate these conversations to more patients.
"The collaborative brings together leaders and teams from around the country working toward a shared mission: to ensure that all people with serious illness have meaningful conversations about what matters most to them, so that what matters most to patients drives the care they receive," says Dr. Joanna Paladino, director of implementation for the Serious Illness Care Program at Ariadne Labs. Collaborative members are "leading the way by investing in culture change in order to make high-quality serious illness communication the standard of care. Understanding what patients and families care deeply about … are the reasons many of us went into medicine and health care in the first place."
This is the second year of the collaborative; in the first cohort with seven systems, more than 540 clinicians received training and documented more than 1,100 serious illness conversations from January 2018 to June 2019. Many facilities in the inaugural cohort are continuing to spread the Serious Illness Care Program throughout their systems.
"We strive to provide the highest quality, patient-centered care possible and believe that understanding patients' values and preferences is critical to providing that care. The Serious Illness Implementation Collaborative supports that mission," says Dr. Isabella Stumpf, division director, Palliative Medicine, Maine Medical Center and clinical lead, Serious Illness Care, MaineHealth. MaineHealth was one of the participants in the initial cohort. MaineHealth trained seven physicians who documented 30 serious illness conversations.
Collaborative members received in-person trainings, webinars, coaching calls, online office hours, and learning groups for training and technical support, all conducted by Ariadne staff. The collaborative also helps establish workflows and implementation plans that health systems can adapt to their own needs and patient populations.
Additionally, members have access to Aria, Ariadne's digital spread and adoption platform, which includes evidence-based resources, guidelines, tip sheets, templates, example work plans, videos, and cross-system collaboration. Collaborative members receive permanent access to Aria, which has been recently updated to enhance forums for communication and collaboration and to generate real-time reports using a program-specific data dashboard.
These resources helped convince the Lehigh Valley (Penn.) Health Network (LVHN) to join the collaborative's second cohort. "We had developed the 'how' to document patient wishes within the shared electronic medical record (system)," says Kathryn Zaffiri, LVHN clinical quality specialist. "What we needed was help with the 'why' it is important to patients and providers and how to develop a system-wide approach to realize this culture change. We have had several initiatives that educate clinicians on holding serious illness conversations, but the organized education, coaching, and individualized approach to overcome barriers will help to capitalize on our foundation."
Participants who applied and were accepted into the collaborative cited various reasons for joining. "The Department of Medicine wanted to have a formal process to ensure earlier and better goals-of-care conversations," says Dr. Winnie Teuteberg, clinical lead for the Serious Illness Care Program Implementation at the Stanford University School of Medicine. Stanford Health Care, another member of the initial collaborative cohort, has since trained 130 clinicians and held 600 conversations. "We are invested in improving end-of-life care, particularly in oncology."
Other institutions saw serious illness conversations as part of a general effort to improve patient care. "We are a patient-centered organization and it's really important not to let the train run away with procedures if you don't know what the patient wants," says Betsy Pollock, director of social work at Mount Auburn Cambridge Independent Practice Association (MACIPA), who spearheaded implementation efforts. "Physicians sometimes have a hard time listening without fixing."
Patients, on the other hand, often want to talk realistically about what they are facing, and Pollock says the use of the Serious Illness Conversation Guide helps all parties. "This is a value-and-goals conversation, not an end-of-life conversation," she says. "Our patients trust their MACIPA physician and want to talk with them."
Despite some setbacks, including unexpected staff turnover, MACIPA continues to implement the Serious Illness Conversation Program. "We spent a lot of time regrouping. We were incredibly persistent," says Pollock, who stressed that having structures in place ensures that serious illness conversations occur, despite changes in staff or administration. "You don't want to be dependent on one clinician to make this work."
Another issue was simply time. "The practices we were working with were very busy and it was sometimes difficult to get the time needed for implementation," says Stumpf.
The oncology program of Saint Joseph Mercy Health System (SJMHS) of Michigan reviewed Ariadne's Serious Illness Conversation Program before joining the second cohort earlier this year. "It is part of our organizational mission is to ensure that patients' end-of-life preferences are honored with the dignity they deserve," says Robin Fowler, SJMHS serious illness/advanced clinical practice nurse lead. "Too often, these decisions are neglected in the course of treatment. After reviewing (Ariadne's) program, we found that it fit our needs perfectly. Previous efforts had centered on training of non-physician staff related to helping patients create an advance directive. We knew that provider training was necessary to move our project forward."
Physicians trained as part of the original collaborative cohort were sometimes reluctant or unsure about initiating serious illness conversations. Some were open to the concept, but wanted to initiate conversations on their own, without any kind of system "trigger" that would indicate a conversation should be held, says Teuteberg. Coaching was key in maintaining focus among staff in the program.
Stanford Health Care will expand the program and continue to develop more straightforward triggers to identify eligible patients and remind providers to have conversations. "We plan to roll out in clinical groups outside of oncology in early 2020," Teuteberg says.
Other participants said that administrative support was strong and they would continue to spread the Serious Illness Conversation Program across their health system.
"We came out of this with a clear vision of what we wanted to accomplish," says Anne Campbell, project manager for the Serious Illness Care Collaboration at the University of Vermont Health Care Network, which sponsored 16 courses, trained 166 clinicians, and held 500 serious illness conversations as part of the first cohort. The next steps for Vermont include training more clinicians and expanding the program to more sites, Campbell says.
Other health systems participating in the initial cohort were Montefiore Health System in New York City, the New England Quality Health Alliance affiliated with Tufts University in Medford, Mass., and Bluegrass Care Navigators in Lexington, Ky.
The 15 health systems included in the new cohort are:
Atrius Health, Newton, Mass.
Broadlawns Medical Center, Des Moines, Iowa
CareMount Medical, P.C., Chappaqua, N.Y.
Casa de Salud, Albuquerque, N.M.
Erie County Medical Center, Buffalo, N.Y.
Lehigh Valley Health Network, Allentown, Penn.
RWJ Barnabas Health, West Orange, N.J.
Saint Joseph Mercy Health System, Ann Arbor, Mich.
San Francisco Health Network
South Shore Health, South Weymouth, Mass.
St. Luke's University Health Network, Bethlehem, Penn.
Texas Oncology, Dallas
University Medical Center New Orleans/LCMC Health System, New Orleans
UMass Memorial Medical Center, Worcester, Mass.
UPMC Susquehanna, Williamsport, Penn.
Stephanie Schorow