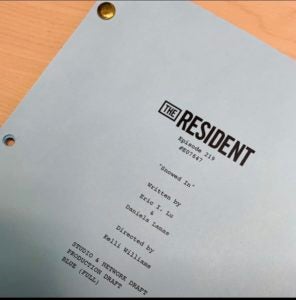 A freak spring snowstorm has blanketed Atlanta, and the staff of Chastain Park Memorial Hospital scramble to handle the consequences. Someone has been brought in with critical hypothermia. A surgeon must operate to save the life of a young father without a trusted attending physician. An ethical quarrel erupts about how – or if – to treat a dying woman headed for hospice care.
It's all in a day's work for the actors of the Fox TV series, "The Resident," which focuses on the lives of residents at an Atlanta hospital. This episode was co-written by Dr. Daniela Lamas, a pulmonary and critical care physician at Brigham and Women's Hospital, instructor at Harvard Medical School, and associate faculty at Ariadne Labs, where she works on the Serious Illness Care Program.
"Snowed In," which aired on April 1 and is currently streaming on Hulu, culminates eight weeks of work by Lamas as a temporary staff writer for "The Resident." The intensive but thoroughly enjoyable experience took her to the show's Los Angeles writing room and set in Atlanta.
Having a medical background and passion for writing, Lamas has long been intrigued with the challenge of scripting TV drama with roots in real medical cases and dilemmas. A native of Newton, Mass., and a graduate of Harvard College, she earned her M.D. at Columbia University Vagelos College of Physicians & Surgeons, where she also completed her internship and residency. She returned to Boston for her subspecialty fellowship. She is also a medical journalist who has written for The New York Times, the Miami Herald, and The Boston Globe. Her memoir, You Can Stop Humming Now, was released last year.
"I love watching television medical dramas … because they are good drama. I also like them because I'm interested in how medicine is portrayed to the public," says Lamas. "TV medical shows are a great way to tell important stories – stories that matter while also being entertaining."
Lamas particularly enjoyed watching "The Resident," which appealed to her for its bold and provocative portrayal of doctors as flawed individuals navigating a system that often prioritizes profit over patients. She contacted the show's creator, Amy Holden Jones, about contributing to the show. To her delight, Lamas was asked to work for eight weeks – from January to early March – as a consultant and writer. She co-wrote the script for "Snowed In" with former Harvard Medical School graduate-turned-TV-writer Eric Lu.
In medical dramas, the best storylines come from piling on medical complications, many reaching a climax before the commercial breaks. That's not always realistic, and yet even seemingly outlandish events may be rooted in actual medical situations.
"The Resident" writers would pose the question, "Is there a world where this [situation] could happen?" If so, the plot twist stays in the show. "If you have an issue you want to teach about, [you wonder] how far can you go in packaging it in a way that interests people but still does not dilute the truth," Lamas says.
Whether "real" or not, many viewers get information about how hospitals operate from shows like "The Resident," "Grey's Anatomy," and, "ER," she adds. "Such shows are telling stories about medicine that are viewed by millions of people. It's a megaphone."
The episode, "Snowed In," begins with something entirely unexpected – an April snowstorm in Atlanta. It then ventures into territory explored by Ariadne's Serious Illness Care Program, which ensures all patients with a life-threatening illness have more, better, and earlier conversations with their clinicians about what matters most. One of the storylines, for instance, centers on a cancer patient and her wishes for her end-of-life care and how difficult it can be to interpret those wishes when the woman's health takes an unanticipated turn. Only by really understanding the patient's desires could the staff make what turns out to be the right choice for her.
Lamas says she is grateful to Ariadne for the flexibility in allowing her to try her hand in Hollywood. "Ariadne is a place where they want people to find where they are uniquely passionate and qualified," she says.
–Stephanie Schorow