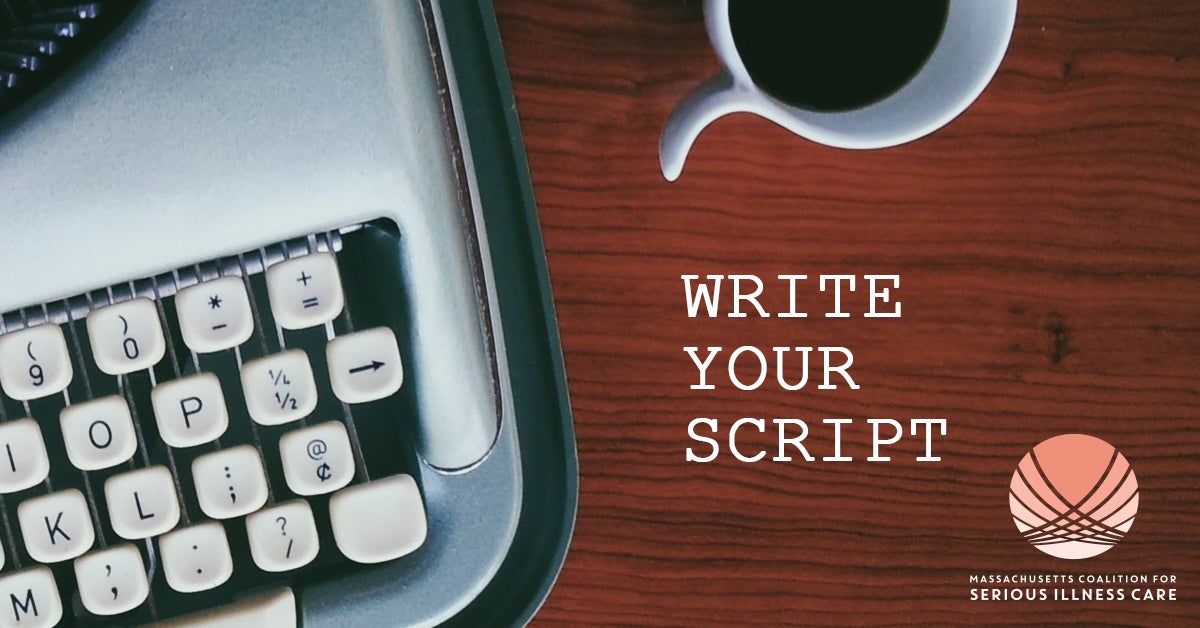 BOSTON–April 3, 2017–The Massachusetts Coalition for Serious Illness Care today unveiled #WriteYourScript, a digital quiz designed to be an icebreaker for talking about our wishes for care when facing a serious illness. The initiative coincides with the 10th anniversary of National Healthcare Decisions Day.
The Coalition — of which Ariadne Labs is a founding member — is launching the novel effort to help close one of the most profound health-care gaps in Massachusetts and the nation. Most of us acknowledge that it's important to talk about what we want at life's end. But few of us actually do it.
And so the Coalition created #WriteYourScript to help close that gap.
The #WriteYourScript experience takes users through a "script-writing" journey, which serves as a metaphor for making decisions about care. The engaging, positive approach is intended to make the process accessible, as almost half of Massachusetts residents have never discussed their wishes for serious illness care with a loved one. And, only 15 percent have had conversations with their doctors. Additionally, while 80 percent of people nationally would prefer to die at home, only 20 percent do—a result of not communicating preferences. With #WriteYourScript, the Coalition is working to shift from the current status quo into more active conversation.
The #WriteYourScript experience also provides users with actionable advice and resources, such as guidance on how to complete an advance directive. It is designed for anyone, at any age.
"People usually don't recognize the value of advance care planning until it's too late—until a loved one with a serious illness is no longer able to speak for themselves about their wishes for their care," said Atul Gawande, M.D., M.P.H., co-chair of the Coalition, executive director of Ariadne Labs, a joint center of Brigham and Women's Hospital and Harvard T.H. Chan School of Public Health, and author of the New York Times bestseller, Being Mortal: Medicine and What Matters in the End.
"When care is not aligned with our priorities for the quality of our life, the result is suffering. This campaign encourages people at all stages of life to think about what matters most to them now so that any future treatment aligns with their values and wishes. We hope that awareness will get people talking and inspire them to complete advance directives. The goal is not a good death; the goal is a good life all the way until the end."
"Advance care planning isn't top-of-mind for people, especially when they're healthy," said Maureen Bisognano, co-chair of the Coalition and president emerita and senior fellow at the Institute for Healthcare Improvement. "But, unfortunately, we never know when we might face a serious illness. We need to think about what we want for care, communicate those wishes, and document them so we're prepared. #WriteYourScript is raising awareness for a topic that can be uncomfortable–thinking about our own potential serious illness–by introducing the advance care planning conversation with an engaging, informative exercise."
We all have simple pleasures that bring joy to our lives. Advance care planning compels us to consider, "What makes life worth living?" For instance, if I'm unable to watch my favorite team on Sundays, or enjoy my favorite food, am I willing to endure extraordinary treatments that might extend my life, but don't preserve my quality-of-life priorities?
Communicating and documenting each of our answers to these types of questions ensures our preferences for care are honored, particularly when we are unable to advocate for ourselves.
To take part in #WriteYourScript, visit www.maseriouscare.org/writeyourscript and join the conversation on Twitter by following @MASeriousCare.
In addition to National Healthcare Decisions Day, the #WriteYourScript campaign coincides with Massachusetts Healthcare Decisions Month. The broad awareness effort is designed to encourage people to speak with their loved ones and their doctors about their wishes for care, and to identify a healthcare proxy who can ensure those wishes are respected. A component of the larger effort will be "Before I Die," a global public art project that invites people to reflect on what's most important to them in life. Several Boston-area organizations will participate in the installation.
About the Massachusetts Coalition for Serious Illness Care
The Massachusetts Coalition for Serious Illness Care includes a diverse set of organizations committed to ensuring that health care for everyone in the Commonwealth reflects their goals, values, and preferences. Each member organization commits to tangible initiatives to help advance this collective mission. These groups include physicians, nurses, hospice workers, counselors, clergy, hospital and health plan administrators, social workers, attorneys, policymakers, researchers, and other health professionals. The Coalition is funded by Blue Cross Blue Shield of Massachusetts and the Rx Foundation. To learn more, visit maseriouscare.org.
Media Contact:
Brenna Fitzgerald
bfitzgerald@a-g.com
857-300-2060